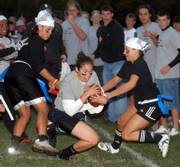 Calling all kings and queens from the last 10 years at Free State High School.
You're wanted for the school's football homecoming festivities Friday night at Haskell Stadium.
"Student council has invited back over 200 of our alumni," said Lisa Boyd, assistant principal. "They will recognize as many of the groups as possible during timeouts at the football game."
Besides the homecoming kings and queens, several other groups will be honored: drum majors, members of the school's Athletic Wall of Fame, state honor choir members, student body presidents and National Merit Scholars.
Besides the game, homecoming week includes several events, including a parade and a dance.
The action started Wednesday evening, with a pep rally, bonfire and the announcement of this year's homecoming court, Boyd said.
Today, students will vote for the homecoming king and queen after seeing a video presentation.
Friday's activities will include a parade featuring class floats, football team members, the band and homecoming court, Boyd said.
Bob Billings Parkway and Wakarusa
The parade will begin at 2:40 p.m. Friday at Bob Billings Parkway and Wakarusa Drive. The parade route will go north on Wakarusa and end at the school.
Friday night's homecoming football game begins at 7 p.m. at Haskell Stadium, where the Firebirds face Olathe Northwest.
During halftime festivities, the members of the homecoming court will be honored and the homecoming king and queen will be announced.
The homecoming dance will be from 8 p.m. to 11 p.m. Saturday at the school.
Copyright 2018 The Lawrence Journal-World. All rights reserved. This material may not be published, broadcast, rewritten or redistributed. We strive to uphold our values for every story published.