Nassau, Bahamas — A man who claims to be the father of Anna Nicole Smith's newborn daughter has filed a lawsuit demanding the reality TV star and baby girl return to California for paternity testing, his lawyer said Tuesday.
The lawsuit on behalf of Larry Birkhead, a photographer who says he is Smith's former boyfriend, was filed Monday in Los Angeles Superior Court, attorney Debra Opri told The Associated Press by telephone from southern California.
She said Smith was served with court papers Monday in the Bahamas, where the 38-year-old former Playboy playmate has been mourning the death of her adult son. Daniel Wayne Smith died Sept. 10 while visiting his mother in the hospital where she had given birth three days earlier.
Howard K. Stern, an attorney for Smith, claims he is the father of the baby girl, Dannie Lynn Hope. He has said the couple plans to marry.
Smith and Stern recently exchanged vows on a catamaran near Nassau but there was no formal marriage. People magazine bought photos of the event and will feature them in its next issue, according to Smith's attorney Michael Scott.
Birkhead filed the challenge because Smith has not responded to his attempts to communicate, Opri said. "The access had been cut off about the time of the birth of the child," she said.
The lawsuit also expresses concerns about the fitness of the baby's current household.
A news release on the lawsuit said it also seeks drug tests for both Smith and the baby girl. Opri said Birkhead was concerned about the presence of drugs in the household but declined to elaborate. "These are things that will come out in court," she said.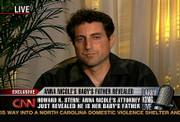 Bahamas Chief Magistrate Roger Gomez, meanwhile, said it is unclear whether an inquest is necessary in the death of Daniel Smith. One had been tentatively scheduled. Gomez told the AP that official toxicology results were issued on Friday but that he had not seen them.
A U.S.-based pathologist who conducted a private autopsy said last week that Daniel Smith died from an accidental lethal combination of methadone and two antidepressant drugs.
Gomez said the Royal Bahamas Police Force is still investigating the death.
Anna Nicole Smith has been married twice.
She married Bill Smith in 1985, giving birth to Daniel before divorcing two years later.
She wed Texas oil tycoon J. Howard Marshall II in 1994, when she was 26 and he was 89. He died the following year. She has since been involved in legal disputes over the estate.
California-based divorce attorney Connolly Oyler said if DNA testing confirms Birkhead to be the biological father, then he can get visitation rights and perhaps even joint custody. He also could get "a huge amount for child support," based on a formula that compares incomes.
That's a nice incentive, considering Smith's wealth - but it's not the right one, Opri said.
Birkhead "truly wants to be involved in that child's life. This is his first child and he does not want to lose that child. And that's why we're doing all this," she said.
Smith could not be reached for comment Tuesday. Stern's cell phone mailbox was full.
Copyright 2018 The Associated Press. All rights reserved. This material may not be published, broadcast, rewritten or redistributed. We strive to uphold our values for every story published.