Students at Pinckney School are digging into their school's past - literally.
It's been 75 years since the doors opened and classes began in the building that stands at 810 W. Sixth St.
But the school's history started long before that with construction in 1871-72 of the first building to carry the Pinckney School name.
"We're just hoping to find evidence of that past school and of the children who attended there," second-grade math and science teacher Sharon Daniels said.
This week, second-graders at Pinckney - under tutelage of Daniels and teacher Amanda Bayens - began an archaeological dig in the schoolyard just south of the existing building. That's where the original building stood until it was torn down in 1931.
Students in groups of about 20 each concentrated their efforts in two square sections, slowly digging up dirt with trowels. The dirt was then carted a few feet away and sifted through screens to uncover any artifacts that might have been buried.
The first artifact was uncovered Monday when second-grader Aubin Murphy found a rusty square nail thought to have been from the old building.
At first, she wasn't sure what she'd found.
"It looked something like an old rusty pipe," Aubin said. "It was square-shaped and pointed on the end. It was really rusty and covered with dirt."
During Tuesday's dig, at least one more rusty square nail was found, this time by second-grader Ben Gotto. He said it was found just a few feet from the first nail.
Another student, Maya Croker, found what she thought were pieces of brick. Some of the brick pieces found during the first two days of digging still had partial lettering on them, Daniels said.
The nails and other artifacts were placed in plastic bags and will become part of a display. Before they go on display, however, they will be cleaned.
"We'll have to use little toothbrushes," Daniels said. "Maybe we'll get the first-graders started on the cleaning pretty soon."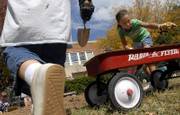 Recognizing the history of the old building was a good way to help celebrate the existing building's 75th birthday, teachers decided. Daniels and a few other teachers went on a real archaeological dig conducted by the state last year in Council Grove to see how it was done.
In addition to the dig, Lawrence resident Bill Pendleton, who attended school in the original building, recently spoke to the students about his school experiences.
In the spring, Pinckney will have a birthday party. Everyone who attended school when the current building opened in 1931 and can be located will be invited, Daniels said.
Meanwhile, the second-graders' digging will go on for about two weeks, and the goal is to go about 2 feet deep, Daniels said.
"They are loving it," she said of the students. "They just want to do this all day, but they can only do it an hour a day."
History lessons
The first school to be called Pinckney School was built in 1871-72 just south of where the current school building is at 810 W. Sixth St. Here are some other historical tidbits: ¢ The original red brick building was two stories and had two classrooms; 90 students attended opening day. ¢ The school was named after Pinckney Street, now Sixth Street. Its namesake was Charles Cotesworth Pinckney, a Revolutionary War hero who helped write the U.S. Constitution. ¢ In 1884, a two-room, two-floor addition was built. ¢ About 1908, another four-room addition was built. ¢ Poet and author Langston Hughes entered second grade in 1909 at Pinckney. ¢ The current Pinckney School building opened in 1931, and the old one was torn down. ¢ Several changes have been made to the building through the years. The current gym was built in 1957.
Copyright 2018 The Lawrence Journal-World. All rights reserved. This material may not be published, broadcast, rewritten or redistributed. We strive to uphold our values for every story published.