Photo Gallery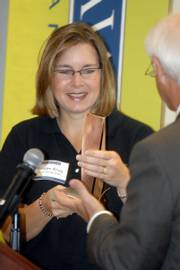 Excellence in commerce
Six Lawrence companies are winners of Excellence in Commerce Awards from the Lawrence Chamber of Commerce, honored for factors ranging from ongoing growth to community involvement.
About 135 business leaders and guests attended the program's awards breakfast Tuesday at SpringHill Suites by Marriott.
Winners move on to the state's Excellence in Commerce Awards, to be presented in June by the Kansas Department of Commerce.
"Each and every one of these companies has risen to the very top," said Pat Flavin, the Lawrence chamber's chairman, who presented trophies to winners Tuesday.
Copyright 2017 The Lawrence Journal-World. All rights reserved. This material may not be published, broadcast, rewritten or redistributed. We strive to uphold our values for every story published.