Fort Riley — Add one more element to the Army's ongoing transition. Its "Army of One" slogan is about to get a face-lift, with the help of soldiers here.
But the Army isn't saying what will come out of the more than $200 million a year it is paying to McCann Erickson of New York, only that it is coming to television and computer screens soon.
"I would say within the next month to six weeks," said Army spokesman Paul Boyce. "We'll have to see if we change the slogan. Keep a lookout, and we'll see what we're up to next."
Production on the new commercials, which Boyce suggested could debut around Veterans Day, has included filming Fort Riley soldiers boarding Black Hawk helicopters and conducting field maneuvers in full battle gear.
A media day planned by the post last week to show soldiers in action was nixed by Army officials in the Pentagon who wanted to keep the campaign under wraps.
At least a few soldiers think the time is right to retire "Army of One," which followed "Be All You Can Be" five years ago.
"Honestly, I would get rid of it in a heartbeat," said Pvt. Nick Anderson. "I think we should go back to the old one, because the Army is a challenge, and some people look at a challenge as what they want in life.
"Every day in the Army is a challenge. 'Army of One' says, 'Come on in, we're all the same.' No, you are what you make of it. You bust your ass, you'll reap the benefits."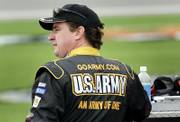 Boyce understands those concerns.
"When you change something that you have for two decades, there's a certain amount of trepidation and nostalgia," Boyce said.
In the years since "Army of One" made its debut, the Army has attempted to remake itself into a lighter, more rapid-response force. The slogan was designed to suggest how highly skilled soldiers are its centerpiece, equipped to handle conflicts on short notice.
The slogan won't disappear entirely, Boyce said, but will continue to be part of the evolving "Be All You Can Be" theme launched in 1981. That campaign was initiated after the Army missed its recruiting goal by 17,000 in 1979.
"It was one of the most powerful marketing messages that actually came from Madison Avenue. It was effective," said Lt. Col. Pat Frank, whose soldiers were actors for the new ad campaign.
"You always remember those commercials that have that certain rhythm. I guess that's the mark of a good product that the snapshot stays with you long after the commercial's over."
Evolving effort
Boyce describes the changes as an evolution, tracing the themes to the James Montgomery Flagg World War I-era "I want YOU" poster hanging on the walls at most recruiting stations.
And while "Army of One" implies individualism, Boyce said, the slogan focused on individuals being part of a team, not freelancing on the battlefield.
"We like to think of it as a strong link in a strong chain," he said.
The Army awarded McCann Erickson the contract for the new campaign after five years with Leo Burnett Worldwide. Boyce said the change was part of the Army's policy of rebidding contracts and not connected with its failure to achieve recruiting goals in 2005, for the first time since 1999.
McCann Erickson is known for developing MasterCard's "Priceless" campaign, as well handling accounts for Microsoft, Black & Decker and General Mills Corp.
Boyce said the Army's new slogan will have a strong presence on the Web site GoArmy.com, including continuing use of a video game, "America's Army," where recruits can see equipment, installations and situations they will meet if they enlist.
"We are losing veterans at a huge number each year. In many communities, you no longer have a family member who is a veteran. Popular culture may be the only way to find out about opportunities in the armed forces," Boyce said.
The "Paths of Strength" link on the Web site lets recruits see how soldiers have developed their personal skills while strengthening the overall Army team.
Team aspect lost
Sgt. 1st Class Josh McClure, a recruiter in northeast Kansas, was working a display during race weekend at Kansas Speedway. McClure said "Army of One" never stuck with soldiers or recruits, mainly because it sounded counterintuitive to the concept most people associate with the military.
"'Army of One' was good, but it never really got explained," McClure said. "You are one soldier, but the Army is one team."
Recruiting has been complicated by the war in Iraq. McClure said he's honest with young adults that a deployment to war should be expected.
"They want you to tell them straight-up," McClure said.
Copyright 2018 The Associated Press. All rights reserved. This material may not be published, broadcast, rewritten or redistributed. We strive to uphold our values for every story published.