Chicago — A suburban school superintendent says he was only trying to be funny when he took videotaped interviews with his new teachers, spliced in his own gag questions and made the faculty members look like killers, strippers and drug users.
Now he could lose his job.
"How do you like to unwind?" Bremen High School District Supt. Rich Mitchell asks in the mock documentary that he later posted on the Internet. The tape cuts to a teacher who replies: "I enjoy a lot of leisure activities."
"Such as?" Mitchell asks.
"Killing," says the teacher.
Mitchell asks another teacher: "What were the results of the last drug test that you took?"
The reply: "It was positive."
School board President Evelyn Gleason said Mitchell could be fired over the stunt, though she said the seven-member board would first have to conduct an investigation.
"I personally think he stepped over the line when it went on the Web site," Gleason said. "We're a great district, we have wonderful teachers and students and this is not representative of them. I think it was a bad idea gone wrong."
Mitchell first aired the video for a back-to-school staff seminar on Aug. 24. About 500 faculty and staff members from the district's four high schools in the large Chicago suburbs of Tinley Park, Midlothian, Country Club Hills and Oak Forest were there for a discussion about how to inject humor and laughter in the workplace.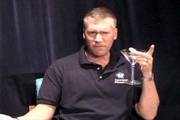 Afterward, Mitchell, who has been superintendent since 2004, posted the video and outtakes on the district's Web site for people who were not able to attend the seminar. All the clips were pulled by last Thursday.
Gleason said that at the start of the last school year, Mitchell also made a joke video and showed it to the faculty. But she said this year's video was offensive, and her main objection was that Mitchell posted this one on the Web, where "the whole world" could see it.
Mitchell was on a planned vacation Monday and did not immediately return telephone or e-mail messages.
On the Web, he wrote: "Each year we try to use a mix of humor and sincerity to welcome everyone back. We hope it provides an opportunity for you to meet some of our staff and perhaps, to laugh with us as we continue to carry out our critical work in changing and improving kids' lives."
Mitchell is expected to face board members at a previously scheduled meeting tonight.
"I think at the very least an apology should be made," Gleason said.
Copyright 2018 The Associated Press. All rights reserved. This material may not be published, broadcast, rewritten or redistributed. We strive to uphold our values for every story published.