Baghdad, Iraq — Iraq's prime minister announced a new plan Monday aimed at ending the deepening crisis between Shiite and Sunni parties in his government and uniting them behind the drive to stop sectarian killings that have bloodied the country for months.
The four-point plan, which emerged after talks between both sides, aims to resolve disputes by giving every party a voice in how security forces operate against violence on a neighborhood by neighborhood level.
Local committees will be formed in each Baghdad district - made up of representatives of every party, religious and tribal leaders and security officials - to consult on security efforts. A Sunni representative, for example, could raise a complaint if he feels police are not pursuing a Shiite militia after an attack. A central committee, also made up of all the parties, will coordinate with the armed forces.
"We have taken the decision to end sectarian hatred once and for all," Prime Minister Nouri al-Maliki told reporters. "We have vowed before Almighty God to stop the bloodshed."
In a possible boost to the effort to rein in the violence, a radical cleric who heads one of the most powerful Shiite militias, Muqtada al-Sadr, has ordered his followers to put aside their weapons temporarily, a Sadr spokesman told The Associated Press.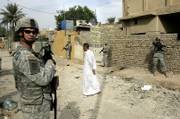 Al-Maliki announced his plan hours after gunmen abducted 14 computer shop employees in a bold, midday attack in downtown Baghdad, the second mass kidnapping in as many days.
The bodies of seven of the 24 captives seized Sunday were found dumped in southern Baghdad. Sunni politicians blamed Shiite militias for both mass kidnappings and demanded the government take action.
Al-Maliki is under increasing pressure to stop the violence, which has killed thousands since February. U.S. Ambassador Zalmay Khalilzad warned this week that al-Maliki must make progress within the next two months to avert a crisis.
Al-Maliki announced a 24-point reconciliation plan when he took office in May, which laid down ways to tackle violence - including an amnesty for militants who put down their weapons as well as security crackdowns. So far, the plan has done little to stem the daily killings.
Copyright 2018 The Associated Press. All rights reserved. This material may not be published, broadcast, rewritten or redistributed. We strive to uphold our values for every story published.