RoxAnne Miller, executive director of the Lawrence-based Kansas Land Trust, has long hoped to see the day when Douglas County environmentalists and industrialists don't regularly butt heads.
Now, though, she thinks there's a lot more reason to be hopeful.
"I think there are a lot of people right now who believe we have a real window of opportunity," Miller said.
The reason for the optimism is the completion of a six-year effort by environmentalists and business leaders who have been working on a plan, called ECO2, to guide how new industrial development and the preservation of critical pieces of open space can go hand in hand.
The group, which was appointed by the Douglas County Commission, has scheduled a series of public meetings this month to get comment on the plan before it is submitted to Lawrence city commissioners and county commissioners for possible adoption.
The major idea behind the ECO2 (pronounced Eco squared) plan is that every time the community invests money to create new industrial parks, it also will invest a corresponding amount to preserve open space in the county.
"It really creates more than just a promise that an investment in open space will happen, it creates a process to help ensure that it will," said Sandra Shaw, chairwoman of the ECO2 committee.
Speak up
A series of public meetings to explain the importance of the ECO2 plan are scheduled this month in several communities: ¢ 7 p.m. Thursday, Douglas County Extension Office, 2110 Harper St. ¢ 7 p.m. Oct. 9, Baldwin City Public Library, Baldwin ¢ 7 a.m. Oct. 12, Bert Nash Center, 200 Maine ¢ 7 p.m. Oct. 12, Eudora Township Hall, Eudora ¢ 7 p.m. Oct. 19, Lecompton Community Building, Lecompton
Less political
Miller and other committee members are hopeful the idea will gain favor with preservationists and the business community because members from each sector have been serving on the county-appointed ECO2 committee.
"I think the process of creating the plan already has done a lot to bring the community together," Miller said. "People who have participated in heated debates on past projects sat down at the same table and participated in putting this plan together. And they now enjoy working together. It is not that they can just tolerate each other; they actually enjoy working together."
The plan is being sold to the business community as a way to help ensure that proposals for new business and industrial parks won't get bogged down by environmentalists or preservationists who think the site is inappropriate for development.
"There have been conflicts in the past over how to use land," said Larry McElwain, an owner of Warren-McElwain Mortuary and a past chairman of the Lawrence Chamber of Commerce. "We're hoping that this plan can take some of the politics out of planning."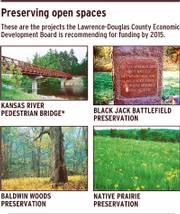 Creating criteria
The plan itself is a bit unique in that it doesn't have maps or other documents showing where the community ought to build business parks in the future. It also doesn't list what areas of the county are most in need of being protected from development.
Instead, the plan creates a set of criteria that leaders would use to determine if a piece of ground is suitable for industrial development. Those criteria include access to an interstate, U.S. or state highway; a location that is outside the 100-year flood plain and is at least 100 acres in size; and a topography that has only a slight slope to allow for development.
The plan also spells out criteria for how leaders would decide on which pieces of open space they would purchase for preservation. The plan states that the land must fall into one of several categories before it could even be considered to be included in a public open space program. Those categories include lands well-suited for trails, native prairies, mature forests, wetlands, habitat for protected species, prime agricultural grounds of 10 acres or more, and sites deemed scenic lands or historical sites.
The plan also states that any landowner who doesn't want to participate in either an open space project or an industrial park project will not be forced to do so. The plan says eminent domain shouldn't be used for either type of project.
The linchpin of the plan is a funding formula that would be used anytime an industrial park project is undertaken by the public. For every $20 million in public investment in business parks, the plan calls for $5 million in public money for open space projects. That ratio is being proposed because research by the committee has found that the public recoups - through land sales and fees - all but about $5 million of every $20 million in industrial park investments.
Possible projects
The actual plan doesn't list any specific projects that the city and county could undertake if it adopted ECO2. But the Lawrence-Douglas County Economic Development Board and the ECO2 committee last year recommended that by 2015 the community would need to add at least one industrial park - either on the vacant Farmland Industries fertilizer plant along Kansas Highway 10 or near the Lawrence Municipal Airport in North Lawrence.
The two groups also recommended that $5 million of public funding be spent on open space projects. The top four projects recommended for funding were a Kansas River pedestrian bridge that would be part of a trail system connecting the Kaw with the Wakarusa River; the preservation of the Black Jack Battlefield near Baldwin; preservation of 100 acres of high-quality forest land known as the Baldwin Woods between Lawrence and Baldwin; and the preservation of native prairies in Douglas County.
City and county commissioners, though, never acted on the recommendations. The recommendations did not come with any specific suggestions on how to fund the $25 million in public funding that would be needed for the open space and industrial projects.
The ECO2 plan also doesn't make specific funding recommendations. Instead it lists options for elected officials to consider. Those range from property and sales taxes to impact fees and a mortgage registration tax.
Copyright 2018 The Lawrence Journal-World. All rights reserved. This material may not be published, broadcast, rewritten or redistributed. We strive to uphold our values for every story published.