Plant ecologist and longtime Lawrence resident Kelly Kindscher has a long history studying prairie plants.
His ancestors homesteaded on the Nebraska prairie when they moved to the Great Plains.
He considers his job at the Kansas Biological Survey and teaching at Kansas University a perfect fit.
A group of artists, environmentalists, community activists and scholars based at the Lawrence Arts Center recently awarded Kindscher, a past president and founding member of the Kansas Land Trust, with the 2006 Imagination & Place Environmental Award for his efforts to educate the public on environmental issues.
What does your job entail as a researcher?
I'm involved in all sorts of research. I have very broad interests, and that's what makes work interesting to me, although there's definitely a plant theme through all of it. I do work on looking at plant communities such as wetlands, including the contract for doing the vegetation work on the current South Lawrence Trafficway mitigation, which was built years ago. I've done work out at Cheyenne Bottoms; I do a lot of work on prairies.
Why do you believe it is important to preserve prairies?
There are untold benefits to biological diversity. They enrich the soils. They provide habitat for species. They provide opportunities for recreational use. And there's something that, to me just deeper down, maybe it's almost a spiritual sense that we should provide habitat in places for all species. And to do that, you need to protect the remaining pieces of high-quality landscape, whether it's little prairie parcels in Douglas County or larger pieces of rangeland in central or western Kansas.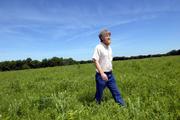 You have said that the proposed 32nd Street Route for the SLT - supported by all but one member of the Kansas congressional delegation - would create disproportionate consequences for Haskell Indian Nations University because of the Baker-Haskell Wetlands. Why would you support the alternate route south of the Wakarusa River?
The south river route hasn't been studied. The one on the map, if you look at the ones there, is kind of a touch-base-and-go type of thing. If we get to that place, I would hope they would open it up this time and pick a really good route and look at the current context, which would be: Development is happening, going to happen, south of the river - (U.S. Highway) 59 (expansion) is going to be built. But it's one of those things that has to sit back and wait, and I have avoided getting into the shouting match, which is what it has become quite a bit.
What is the most critical issue Lawrence faces?
The big story, of course, in Lawrence is growth and development, and that greatly impacts how land is used. I think that is the big story, which is the other side of land conservation, and I feel very fortunate to have been involved in ECO2. I have been on the board, and to recognize that we need to link those two somehow. That is, we are going to do more economic development, which we are, that we need to be protecting landscape, protecting open space, which we are. And to link those is a very significant move, I think.
Audio Clips
Kelly Kindscher
How would you assess work on planning issues?
I think we are turning this corner of thinking about not just protecting open space, but looking at local food production, looking at local recreation: Hiking trails, bicycling, biking - a whole series of things that to me will guarantee a high quality of life 50 to 100 years from now.
What is your favorite thing about living in Lawrence?
The diversity of food available in this community. One of the biggest changes for me from 1975 to present is the ability to eat local food and restaurant choices. Those go hand in hand. There's great food in downtown.
And then to know that people I know personally are taking produce, herbs, vegetables, to many of those restaurants. That's pretty exciting. I feel like I'm supporting the local economy in many ways.
What are your thoughts on winning the Imagination & Place Award?
There's a big part of me that doesn't like to be in the limelight. But I also see what the award means in general - that it's important to give voice, and I feel that I have one of the community voices for the environment. And with that, I feel it's important to speak for what I feel is a pretty sizable number of people that want to have these amenities: That delights in large trees and forests and prairie wildflowers and open space and gardens and local beauty and a pastoral landscape.
Copyright 2018 The Lawrence Journal-World. All rights reserved. This material may not be published, broadcast, rewritten or redistributed. We strive to uphold our values for every story published.