Even at the end of winter, the Akins Prairie is bursting with life.
Strolling through the privately owned 17-acre site last week, Kelly Kindscher rattled off just a few of the 200 species occupying the prairie southeast of Lawrence -- switchgrass, wild rose, Black-Eyed Susans, bluestem grass and many, many more.
"Akins Prairie is one of those wonderful prairie gems, full of wildflowers if we were here at a different time of the year," said Kindscher, a scientist with the Kansas Biological Survey.
Those gems are disappearing, however.
According to an inventory conducted by Kindscher and his colleagues, development and agricultural uses have erased 409 acres of tallgrass prairie from the Douglas County landscape since 1988, leaving less than 2,000 acres in existence.
When settlers occupied Lawrence in the 1850s, by comparison, more than 300,000 acres of the county were covered by prairie.
"Douglas County was originally 94 percent prairie; we're now down to less than 1 percent," Kindscher said. "We're down to about 150 parcels left, but most of those are pretty small."
Kindscher and other open-space advocates say the survey provides fresh urgency for efforts to preserve some of the open land left in Douglas County, before it is converted to the houses, stores and factories needed by a growing population.
"It's a tiny acreage," Kindscher said. "So why not save it?"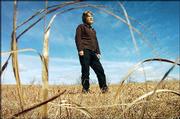 The inventory was funded with a $177,000 grant from the Kansas Department of Wildlife and Parks, and it catalogs all of the remaining natural areas -- not just prairie -- in Douglas, Johnson, Wyandotte, Miami and Leavenworth counties.
"We're very much interested in defining the natural communities and what it takes to maintain them," said Ken Brunson, a spokesman for the state agency. "To save them, we've got to know what's there first."
The survey team studied aerial photographs and satellite data to come up with the list. They also left their computers and offices to get a firsthand look at nature.
"We drove every county road in Douglas County to look at these sites," Kindscher said.
Despite the massive development across the county since World War II, Kindscher said, there are some areas that remain untouched, "high quality" prairies that are home to hundreds of species, some of them rare.
"These are sites that have never been plowed," Kindscher said. "The majority of the plant species you find there were there 200 years ago."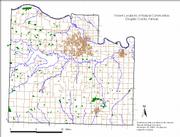 Thanks to a similar survey in 1988, Kindscher's team was able to determine that 18 percent of the county's prairies had been lost over the last 16 years.
Ninety percent of what remains is in private hands, in parcels so small most are little more than dots on a map of the county.
Once a prairie is gone, Kindscher said, it's gone.
"We are not able to truly restore a prairie," he said. "We're not good enough to restore ecosystems."
Voluntary
Kindscher, however, said that simply taking the land away from owners is not an option.
"It's not what should happen," he said, "and it's bad politics."
Instead, he said, state and local governments should consider putting money into conservation easements -- pay landowners who voluntarily agree to a contract never to develop their property.
The Akins Prairie is preserved through such an easement, set aside by Tom Akins and his family. Two other prairies sites in Douglas County also are under conservation easements, bringing the total to 43 acres. Akins, though privately owned, is open to public access -- many such sites aren't.
Lawrence attorney RoxAnne Miller is executive director of the Kansas Land Trust, which works to preserve open land through easements. She's also a leading figure on ECO2, the county board looking for ways to set aside both industrial and open space land -- and ways to pay for both those projects.
Kindscher's survey, she said, is part of the first step in educating the public about the value of Douglas County's tallgrass prairies.
"It may be the public will not see the significance of everything that's left," she said. "But I think that given the opportunity, they'd choose to protect a portion of it."
Kindscher said he's optimistic that half of the remaining prairie can be saved. Miller wouldn't set a goal, saying the voluntary nature of the preservation efforts will make a prediction difficult.
"When you set a goal independent of landowners' wishes, it may be difficult to turn that around," she said.
Kindscher is optimistic the public can be persuaded to save at least some of what's left.
"These are important pieces of our cultural and biological history. They're gems," he said while looking over the Akins Prairie's panoramic view.
"This parcel has over 200 species on it. Many of those are showy," he said. "This is a great place to come take a walk on a day like today, or when there's wildflowers blooming. It's part of our landscape that we grow to appreciate here in Douglas County."
Copyright 2018 The Lawrence Journal-World. All rights reserved. This material may not be published, broadcast, rewritten or redistributed. We strive to uphold our values for every story published.