New York — Fox News Channel will mark its 10th anniversary this week in an unusual position: knocked back on its heels.
The network is in the midst of its first-ever ratings slump. Cable news' most stable lineup is being juggled. And the blow-up over President Clinton's interview with Chris Wallace suggests that Democrats are attacking Fox because they perceive the same vulnerability in the network as they do in the Bush administration.
Maybe some of this was on Fox News chief Roger Ailes' mind one day last week when he rode the elevator to the 22nd floor of News Corp.'s office for an 8:45 a.m. stroll through the network's ad sales department.
Mr. Ailes? What are you doing up here, someone wondered aloud.
"Taking attendance," the hard-charging motivator replied.
Message delivered.
Loved by some, loathed by others, Fox News Channel has been the biggest success in the cable industry and profoundly changed television news since its signal turned on Oct. 7, 1996.
Ailes can still remember a reporter's laughter during the news conference to introduce the network. He had the last laugh: Fox News beat by a year his plan for overtaking CNN and grew to more than double its rivals in viewership. It made stars of Bill O'Reilly and Sean Hannity and put "fair and balanced" into news history textbooks.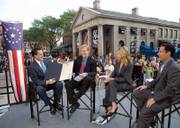 Opinionated talk is now a staple on the TV dial, with Keith Olbermann on MSNBC, Lou Dobbs on CNN and Nancy Grace on CNN Headline News. Fox was first.
"I watched CNN for a week before I went on and I kept trying to wake myself up," Ailes told The Associated Press. "I kept nodding off and I realized they are biased, they are boring, they looked like a network that has never had any competition."
Partisan viewers
Ailes, a former GOP political operative, said simply presenting different points of view made Fox seem like a contrast to left-leaning coverage elsewhere.
Before Fox, many in the media scoffed at the notion of a liberal bias and figured only a handful of people really believed that, said Erik Sorenson, former MSNBC president.
"Fox proved it's a much larger group than anybody realized," he said.
Their success clearly made others respond. The very idea that Rush Limbaugh would appear on a "CBS Evening News" segment called "Free Speech," heavily promoted on Katie Couric's first night as anchor, would have been unfathomable a decade ago, Sorenson said.
"I've had many people say to me we have forced people to think differently in their own newsrooms," Ailes said.
Fox's critics consider "fair and balanced" camouflage for an agenda. Whatever the truth, news-watching became increasingly partisan: more Democrats watched CNN, more Republicans watched Fox, according to a 2004 study by the Pew Research Center for the People in the Press. The year Fox started, CNN had more Republican viewers than Democrats.
Growth now slowing
While he cautioned not to overexaggerate Fox's influence, former CBS News President Andrew Heyward suggested industry sensitivity to Fox's popularity, coupled with shock after the Sept. 11 terrorist attacks, combined to dampen aggressiveness in questioning the government's assumptions leading up to the Iraq war.
Ailes dismissed that theory with an epithet.
Less attention has been paid to the look of Fox News. During its peak, it appeared more colorful, more graphically innovative and more urgent. It made CNN look stodgy.
But the years of explosive growth have ended at Fox. Viewership over the first eight months of the year was down 5 percent compared to 2005, with a steeper 13 percent decline in prime-time, according to Nielsen Media Research. For 12 straight months, Fox's prime-time audience has been smaller than the year before. Meanwhile, CNN viewership inched up 5 percent this year through August. On a typical day this year, Fox's audience is 845,000 while CNN's is 466,000.
"It's hard," Ailes said, "to win the Super Bowl every year."
Copyright 2018 The Associated Press. All rights reserved. This material may not be published, broadcast, rewritten or redistributed. We strive to uphold our values for every story published.