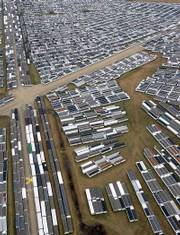 Hope, Ark. — Nearly 10,000 emergency housing trailers that were intended to be sent to the Gulf Coast to help Hurricane Katrina victims have been freed up for other uses.
The Federal Emergency Management Agency parked the trailers at Hope Municipal Airport in the months following the hurricane. The agency came under criticism when the trailers sat empty.
FEMA officials said that regulations against placing the homes in flood plains prevented their use on the Gulf Coast.
Congress last week approved a homeland security spending bill that included a provision allowing FEMA to sell or donate the trailers to municipalities, nonprofit groups or American Indian tribes.
Sen. Mark Pryor, D-Ark., said he would prefer that the homes had gone to hurricane victims as originally intended, but selling or donating them to cities or community groups was better than letting them sit unused.
"Allowing the homes to sit and deteriorate at the airport is an abuse of taxpayer funding and should not be an option," Pryor said in a statement.
Pryor and Rep. Mike Ross, D-Ark., sponsored the measures in their respective chambers before the provision went to a conference committee. Sen. Tim Johnson, D-S.D., added the option to convey the trailers to Indian tribes to house the homeless.
"I am proud that the 9,778 fully furnished manufactured homes sitting in Hope, Arkansas, may finally be put to good use," Ross said.
FEMA was directed to work with the Department of Interior to transfer the trailers to tribes, depending on need.
Indian housing has been a problem for decades. According to a 2003 survey, an estimated 200,000 housing units are needed immediately in Indian country and approximately 90,000 Indian families are homeless or "under-housed."
The Homeland Security Department's inspector general has said that U.S. taxpayers could be stuck with a maintenance bill of nearly $47 million a year for thousands of trailers that sit parked at sites around the country.
Copyright 2018 The Associated Press. All rights reserved. This material may not be published, broadcast, rewritten or redistributed. We strive to uphold our values for every story published.