Comic Paul Mooney used to joke in his routine that he uttered a racial epithet offensive to blacks 100 times every morning.
"Well, white folks, you shouldn't have ever made up the word," Mooney, who is black, says in promotional material.
But Monday, Mooney pledged never to use the word again after seeing a video of white comedian Michael Richards, who used the word - and a variety of other slurs - to denounce hecklers at a recent performance captured on video.
"I've used it and abused it, and I never thought I'd say this," said Mooney, but Richards "is my Dr. Phil - he's cured me."
Mooney, whose credits include writing for the late Richard Pryor and the TV show "In Living Color," joined Monday with black leaders including the Rev. Jesse Jackson and Rep. Maxine Waters, D-Calif., in calling for hip-hop artists and everyone else to stop using the racial epithet. They endorsed a campaign by the National Association for the Advancement of Colored People to "just say 'no' to the n-word."
"We're not trying to penalize anyone," Waters said at a news conference at the Los Angeles Sentinel newspaper, "but don't use the n-word, no matter who you are, whether you're black, white, young or old."
Added Jackson: "This word is a symbol of degradation and the actions that flow from it."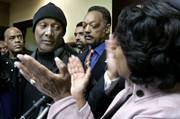 Young people and non-native English speakers hear the songs and raps and don't recognize how offensive the word is to some, the black leaders contend.
It isn't clear whether the musicians - many of whom are black - will go along. Several artists and their agents couldn't be reached for comment.
Some who have studied the word's use argue that banning the word - used more than 200 times in "The Adventures of Huckleberry Finn," for example - goes too far.
The term was originally "simply a dialectal variant of Negro," according to Webster's dictionary and now "is acceptable only in black English." It is now generally taboo because of the legacy of racial hatred that underlies the history of its use among whites and its continuing use among a minority of speakers as a hostile epithet.
Richards, who has apologized and appeared on Jackson's radio show during the weekend, blamed anger rather than racism for his tirade this month at the Laugh Factory in West Hollywood that was captured on video and posted on TMZ.com.
Joe Hicks, vice president of Community Advocates Inc., called the move to ban the word "just silly and outrageous."
Hicks, a former director of the City of Los Angeles Human Relations Commission, said Waters and others shouldn't be trying to alter the course of contemporary urban culture, accusing them of "racial opportunism."
Copyright 2018 The Lawrence Journal-World. All rights reserved. This material may not be published, broadcast, rewritten or redistributed. We strive to uphold our values for every story published.