Photo Gallery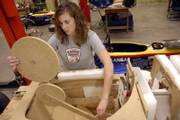 Women in science majors
There are 23 men on Kansas University's Jayhawk Motorsports team and one woman, Gretchen Christenson.
"The guy jokes get old," said Christenson, a senior majoring in mechanical engineering. "You get tired of hearing all of their male crap. : But other than that, they don't pick on me."
Two Kansas University researchers are studying young women like Christenson who have chosen careers in the often male-dominated fields of science, technology, engineering and math.
It's work that's all the more pressing as the United States faces increased global competition in the sciences, the researchers said.
"If we are to build our science work force in this country, it's going to have to be women and minorities who fill those positions," said Barbara Kerr, distinguished professor of counseling psychology.
Kerr and Karen Multon, professor and chairwoman of the School of Education's department of psychology and research in education, have received a three-year, $500,000 grant from the National Science Foundation for their upcoming work studying the supports and barriers for gifted women going into careers involving science, technology, engineering or math.
They will explore how socioeconomic status or geographic location plays a role in a woman's career pursuits. And they'll look at how a woman's relationship with a significant other can affect her career choice.
"We know that women scientists often compromise their dreams and goals in order not to inconvenience their loved ones," Kerr said.
And it can happen in college. Kerr said that research has found that young women often lower their aspirations and opt for less-demanding majors to keep a relationship with a boyfriend.
"We think that's a danger zone," she said.
Of the more than 600 bachelor's degrees in science, technology, engineering and math disciplines awarded by KU in fiscal 2006, about 380 went to men and about 250 to women.
Those disciplines draw students like Christenson, a Eudora High School graduate who originally planned to major in journalism but decided it wasn't her calling.
"It didn't feel it was difficult enough," she said of journalism. "I like to be challenged."
Women who have stuck to careers in those fields say they've done so despite challenges.
Chemistry professor Kristin Bowman-James, an active member of the Committee on the Advancement of Women Chemists, said she's heard women voice complaints about discrimination.
"Many times, it's very subtle things that you wouldn't anticipate," she said.
Stacey Lamer, a project engineer with Bartlett & West Engineers Inc. in Lawrence and director of the Topeka chapter of the Kansas Society of Engineers, said in a former job, one male co-worker would not make eye contact with her - an action she attributed to being the rare woman in the workplace.
"He literally never looked me in the eye and he looked at everyone else in the eye," she said. "I didn't let it bother me too much."
But while the salary gap for men and women may be closing and workplaces now make more concessions for maternity leave, there are some areas where progress needs to continue, the researchers said.
"What is not changing as fast as we would like to see are women's attitudes," Kerr said. "Many women still feel unconsciously that men's work is more important than their own. Many women still feel : that they're more resourceful than men are and therefore they can more cheerfully and congenially compromise their goals than men can."
Kerr and Multon will work with researchers at Arizona State University and Tennessee State University. They will work with young women, gathering information about their backgrounds and experiences through a series of workshops.
Copyright 2015 The Lawrence Journal-World. All rights reserved. This material may not be published, broadcast, rewritten or redistributed. We strive to uphold our values for every story published.