Call it an early Christmas gift.
By this time each year, the Lawrence Children's Choir already has performed its fall concert, regaling local fans with the kind of artistry that earns the group invitations to sing in prestigious concert halls and cathedrals around the world.
This year is different.
"We have been having requests for I don't know how many years from people saying, 'Why don't you do a Christmas concert? We'd really love to have a Christmas CD,'" says Janeal Krehbiel, who directs the 79-member choir. "So I finally broke down and decided, OK, if that many people want Christmas CDs, we'll go ahead and do a Christmas concert."
She put together a program of traditional hymns and carols from many cultures for the group's first Lawrence Community Holiday Concert. The children will perform at 7 p.m. Saturday at Corpus Christi Catholic Church, 6001 Bob Billings Parkway.
Alto Michael Bruce, a ninth-grader at Central Junior High School, says he's enjoying the musical change of pace and working hard to perfect the challenging selections.
"Mrs. Krehbiel picks many great pieces for us to sing," he says. "It's the normal LCC standard."
All the pieces performed Saturday will be on the choir's first Christmas CD, which should be available in the spring. The recording will take place during a pre-concert session.
"We want it to be perfect," says Central ninth-grader Lydia Long-Dasta, who sings alto in the choir. "Usually there's coughing and babies crying, people sneezing, so we're doing it before."
This is Long-Dasta's fourth year in the group, so she's no stranger to recording CDs. Still, she says, it doesn't get any easier.
"It drains you because there's perfection in trying to record it and everybody ending at the same time," she says, noting that she recently had listened to an earlier recording by the choir. "I was amazed at our sound. I hope this year it turns out the same."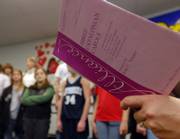 Among the offerings will be music from Slovakia, Catalonia, Cameroon, England, France, Germany and Russia, along with holiday favorites "The Holly and the Ivy," "Gesu Bambino" and "Jingle Bells."
The choir will premiere "Sing We Now of Christmas," a traditional French carol arranged by Robert Pherigo in celebration of his son's final season in the choir. Also of note will be a performance of "Come, Join the Angels' Song," arranged by Krehbiel and the choir's accompanist, Marilyn Epp.
"I started trying to find music that was not recorded by other children's choirs on CDs," Krehbiel says. "In the process of listening to 30-plus CDs made by children's choirs, I found a lot of pieces that really were not recorded, or arrangements that really were not recorded. So we ended up with a wonderful array, a big variety of pieces that have to do with Christmas."
Although the holiday concert is dominating most of the choir's attention now, excitement is mounting for the group's spring tour to New York City.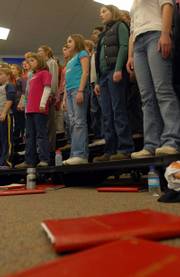 The choir was invited in May to submit an audition tape to be considered for a national choir festival sponsored by Field Studies International. The group was selected and will perform at the storied Carnegie Hall in mid-April.
"We had done this in 2000 and had an absolutely wonderful experience," Krehbiel says. "I think any time children have an opportunity to sing in Carnegie Hall, it's a great honor. You can't just call the office and say, 'May we sing at Carnegie this year.' You have to be invited."
Michael Bruce, who traveled with the choir to Montana last year and Germany the year before, is just as eager to hit the Big Apple.
"I've been to New York before," he says, "but I've heard singing in Carnegie Hall is just quite a pleasure."
Lydia Long-Dasta also can't wait.
"Mrs. Krehbiel said that singing there and the acoustics in that place are phenomenal," she says. "I'm looking forward to seeing that and hearing it, too."
Lawrence Community Holiday Concert
Who: Lawrence Children's Choir and the Choristers preparatory choir When: 7 p.m. Saturday Where: Corpus Christi Catholic Church, 6001 Bob Billings Parkway Tickets: $6 in advance at Hume Music, 711 W. 23rd St., or $8 at the door
Copyright 2018 The Lawrence Journal-World. All rights reserved. This material may not be published, broadcast, rewritten or redistributed. We strive to uphold our values for every story published.