Denver — When it comes to public transportation in this city, everything old is new again.
Tens of thousands of people turned out for a celebration over the weekend to welcome the city's newest addition to its mass transit system: a train. The new 19-mile-long commuter rail line, projected to carry at least 38,000 passengers each day, officially opened Sunday.
"I would sure call it back to the future. We spent the 19th century building up a huge rail system, then tore it down in the 1950s, and today we are rebuilding it at a cost of billions," said Colorado historian Tom Noel.
Denver once had 300 miles of trolley and other electric lines, built after the first train began running in the area in 1871, offering rides for just a nickel. The trains grew in popularity partly because they were genteel, stopping in the middle of the street to pick people up, and because they didn't generate noxious odors like buses or coal-fired trains.
But as America began to fall in love with the automobile, trains and trolleys fell out of favor. The lines, many losing money, shut down or were bought out by their competition. Like many other states where the auto was king, Colorado voters initially rejected mass transit, opting instead to build more highways and lanes.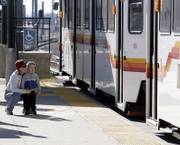 Over the years, cars descending on the city daily in search of scarce parking grew, and Denver began turning to trains again. The first section of track opened in 1994, and now there are 35 miles of line. The latest section connects downtown with the Denver Tech Center, a major employer. The new line is the city's third, built at a cost of $939 million.
University of Colorado graduate engineering student Jessica Rivas of Denver enjoyed a pre-dawn ride on the new line Sunday. She said it saved her 30 minutes on what had been a 90-minute, multibus trip from south Denver to Boulder.
"It's really unbelievable. I can get so much done with my laptop," she said.
The approach also has caught on in other cities: St. Louis recently added eight miles to its existing 38-mile system. Kansas City, Mo., officials are trying to figure what to do now that voters surprised them and voted to build a light rail system. Salt Lake voters approved an expansion of their 14-mile system. Phoenix hopes to open a light rail system in 2008.
Copyright 2018 The Associated Press. All rights reserved. This material may not be published, broadcast, rewritten or redistributed. We strive to uphold our values for every story published.