Shamong Township, N.J. — Long a jellied side dish at Thanksgiving, cranberries are increasingly bringing their tart taste and health benefits to products beyond Cosmopolitan cocktails and juice drinks.
The red berries are turning up in everything from confections and wines to soaps and salsas, with many cranberry growers hawking an array of products at their own stores or over the Internet.
The Joseph J. White Inc. cranberry farm in New Jersey, the No. 3 cranberry producing state, even has started using them for agritourism. It gives bus rides around flooded bogs during the October harvest to teach visitors all about cranberry lore. Growers in Wisconsin, the No. 1. producer, and in No. 2 Massachusetts have done so for years.
Cranberry sales - fresh, frozen, in juices and dried for snacks or ingredients in cereals and other products - are approaching $1.5 billion a year in this country, said Ken Romanzi, chief operating officer of Ocean Spray, a huge cooperative owned by about 650 North American cranberry growers and some grapefruit farmers.
The boom of the berry is due to proven health benefits that have fueled marketing campaigns and consumer popularity, fast-expanding markets overseas - particularly Japan and western Europe - and a big bust in the U.S. industry in 2000. That year, cranberry prices collapsed amid a surplus driven by farmers expanding their bogs and speculators jumping in after cranberry prices rose rapidly in the late 1990s.
"It certainly caused people to find new uses for cranberries," said Joe Darlington, a fifth-generation cranberry farmer who runs the 350-acre White farm in Shamong Township, N.J., with his wife. "It's what led us to open (our) store and start the tours."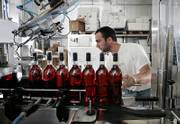 Cranberry processors such as Ocean Spray already had branched out to juice blends a couple of decades earlier, after a prior industry bust.
In the past several years, farmers and processors, primarily small operations, have introduced cranberry mustard and chutney, gourmet cranberry sauces, dried cranberries in trail mixes, cranberry-flavored ice cream, hand lotions and cosmetics made from cranberry seed oil, and even cranberry beer, said Tom Lochner, executive director of the cranberry growers association in Wisconsin.
Cranberries, native only to North America, also are grown in Oregon, Washington state and British Columbia and Quebec in Canada.
"People realized cranberries can be used in a lot of different ways," said Lochner, noting there are more than 700 cranberry products on the market.
Fine restaurants also have been increasingly using cranberries in salads, desserts, sauces and stuffing, and the cranberry industry has been circulating recipes featuring the berries.
Sales of cranberry wine have been rising steadily at Valenzano Winery in Shamong, N.J. It now produces about 3,000 gallons a year, bringing in 15 percent to 20 percent of total income, said Tony Valenzano Jr., who runs the decade-old winery about halfway between Philadelphia and Atlantic City with his brother and father.
"It's a good seller year-round, but 80 percent of the sales are for Thanksgiving and Christmas," he said.
Copyright 2018 The Associated Press. All rights reserved. This material may not be published, broadcast, rewritten or redistributed. We strive to uphold our values for every story published.