San Francisco — Milton Friedman, a Nobel Prize-winning economist who championed individual freedom, influenced the economic policies of three presidents and befriended world leaders, died Thursday. He was 94.
Friedman died in San Francisco, said Robert Fanger, a spokesman for the Milton and Rose D. Friedman Foundation in Indianapolis.
"America has lost one of its greatest citizens," President Bush said. "Milton Friedman was a revolutionary thinker and extraordinary economist whose work helped advance human dignity and human freedom."
In numerous books, a Newsweek magazine column and a PBS show, Friedman championed individual freedom in economics and politics. The longtime University of Chicago professor pioneered a school of thought that became known as the Chicago school of economics. His work still is widely influential in the business world, academia and politics.
"Milton Friedman revived the economics of liberty when it had been all but forgotten," said former British Prime Minister Margaret Thatcher. "He was an intellectual freedom fighter. Never was there a less dismal practitioner of a dismal science."
Friedman's theory of monetarism was adopted in part by the Nixon, Ford and Reagan administrations. It opposed the traditional Keynesian economics that had dominated U.S. policy since the New Deal. He was a member of Reagan's Economic Policy Advisory Board.
His work in consumption analysis, monetary history and stabilization policy earned him the Nobel Prize in economics in 1976.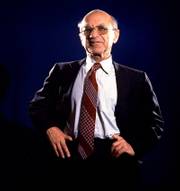 Friedman favored a policy of steady, moderate growth in the money supply, opposed wage and price controls, and criticized the Federal Reserve when it tried to fine-tune the economy.
A believer in the principles of 18th century economist Adam Smith, he consistently argued that individual freedom should rule economic policy. Friedman saw his theories attacked by many traditional economists, such as Harvard's John Kenneth Galbraith.
"He, more than any other person, has changed the composition and ideology of the economists' profession," said Paul Samuelson, a 91-year-old professor emeritus of economics at the Massachusetts Institute of Technology who was a contemporary liberal foil to Friedman's conservatism.
In an essay titled "Is Capitalism Humane?" Friedman said "a set of social institutions that stresses individual responsibility, that treats the individual : as responsible for and to himself, will lead to a higher and more desirable moral climate."
Born on July 31, 1912, in New York City, Friedman began developing his economic theories during the Great Depression when President Franklin D. Roosevelt based his New Deal on the ideas of Britain's John Maynard Keynes, the most influential economist of the time.
Friedman graduated from Rutgers University in 1932 and earned his master's degree the following year at the University of Chicago.
After working from 1935 to 1937 for the National Resources Commission in Washington, he served on the staff of the National Bureau of Economics Research in New York from 1937 to 1945 and received his doctorate from Columbia University in 1946.
After World War II, he taught at the University of Minnesota, then returned to the University of Chicago. He became a senior fellow at the Hoover Institution at Stanford University in 1977.
Friedman married Rose Director in 1938. They had two children, and Rose was co-author of some of his books.
Copyright 2018 The Associated Press. All rights reserved. This material may not be published, broadcast, rewritten or redistributed. We strive to uphold our values for every story published.