Garden City — As Jalbert Cuevas stood in front of his peers pretending to be a dead leaf, a man known as the Eco-Troubadour picked up a cafeteria trash can, turned it over and held it above the fourth-grader's head.
The can was empty, but the third- and fourth-graders at Edith Scheuerman Elementary School got the idea: Stan Slaughter, the Eco-Troubadour, was making compost.
When he had the right combination of imaginary "brown stuff" (sawdust and Jalbert the leaf), imaginary "green stuff" (cafeteria trash), heat and moisture, then imaginary bacteria came along and unleashed their digestive juices to turn the whole mess into "rich, fluffy black compost."
The students already knew the process. Slaughter's song about it has been playing in their classrooms for a month, and they joined in as he strummed his guitar and sang.
"Put me in the compost pile. : Help me go from all used up to new. : Let nature use her compost crew."
Slaughter, who became a teacher in 1970, works for the Kansas Department of Health and Environment, using music to educate students at schools across the state about solid waste and recycling.
A resident of Lee's Summit, Mo., Slaughter has about five albums full of ecology-related songs, some original and some from like-minded songwriters who are creating what he called "the new nursery rhymes."
"Music drives the message home," he said. "It sticks in your head."
The idea, then, is for the songs that stick in children's heads to cause action. Slaughter promoted action at Edith Scheuerman through the well-known "three R's" of reduce, reuse and recycle, plus a fourth: rethink.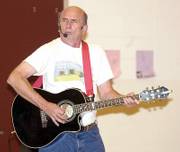 An example of rethinking would be the creation of a flower pot he tossed high in the air during his performance and let fall and bounce on the ground amid students' gasps. It was made of recycled tires.
Another would be to make use of one type of paper the students - or at least their parents - might have in their wallets.
If every Edith Scheuerman student were to go to a store that didn't sell recycled paper and tell the store owner that they'd go spend their paper money someplace that did, that owner might get some recycled paper, Slaughter told them.
The students already recycle in classroom bins, said second-grader Dusty Schilling, who added the presentation taught her about more items she could recycle.
The school's recycling team, a group of students who sort through all the paper that piles up in the bins, recently was recognized in the KDHE "Get Caught Recycling" contest, launched in April to encourage schools, businesses and communities to show off recycling efforts.
KDHE provides schools with the chance to have a visit from Slaughter as part of its "Kansas: Don't Spoil It" campaign. Schools in Garden City, Tribune and Cimarron took advantage of his trip to western Kansas.
Slaughter and other members of the department also are training teachers to incorporate concepts of recycling and the environment into their classrooms.
Copyright 2017 The Lawrence Journal-World. All rights reserved. This material may not be published, broadcast, rewritten or redistributed. We strive to uphold our values for every story published.