It seems small, but one sentence out of 20-year-old Joe Steffy's lips was music to his parents' ears.
"I wanted to jump right out of my skin," Janet Steffy recalled of hearing her son speak. "You're so excited you can hardly stand it - your son said something that a total stranger understood."
Joe Steffy, who has Down syndrome and autism, is among the 70 children and adults improving their communication skills at Kansas University's Communication Connections program.
The program, launched this fall, includes 15 different social groups - each aimed at helping participants hone their communication skills by interacting with others.
In the past, children and adults with communication problems might have received individual help at KU's Schiefelbusch Speech-Language-Hearing Clinic.
"It's more relevant," said Jane Wegner, director of the Schiefelbusch Clinic. "It's more fun. It is focused more on participation and quality of life than fixing a specific problem."
Participants may have communication challenges brought about by autism spectrum disorders, mental retardation, cerebral palsy or other conditions. They also may have developmental language problems or articulation problems.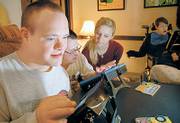 Wegner said organizers hope to add to the groups more children and adults who do not have communication challenges.
The groups take different forms. One is a book club. Others take trips out into community spots, such as a grocery store or downtown Lawrence, to teach participants how to communicate better in different settings.
Joe Steffy's group includes people who use devices to help them communicate. Steffy's communication device speaks for him, saying the words that are represented on a screen.
Janet Steffy said the group gives her son a setting to speak with others who will listen.
"They bring four people together who have a whole lot to say, who haven't had an audience and who people all have plenty of time to listen," she said.
Joe Steffy enjoys gymnastics and swimming. He's learning to play the guitar and, with the help of his family, he's building a business selling kettle corn at special events and to stores. His business is called Papa Joe's Kettle Corn.
Program info
The Communication Connections program is open to children and adults with and without communication challenges. For information about the program or to participate, contact Jane Wegner at jwegner@ku.edu or call (785) 864-4690.
"He stands straight and tall now and he holds his head up," Janet Steffy said. "He knows he's Papa Joe."
It was as Papa Joe that he spoke words that made his parents proud. He asked some customers: "Would you like to try my kettle corn?"
"That's overwhelming to a parent," recalled Joe's father, Ray Steffy. "What he's been able to do (at KU) has helped."
Janet Steffy said the group gives her son the confidence he needs to continue getting better at using his communication device.
"It's his ticket to the community so he can be understood," she said.
Copyright 2018 The Lawrence Journal-World. All rights reserved. This material may not be published, broadcast, rewritten or redistributed. We strive to uphold our values for every story published.