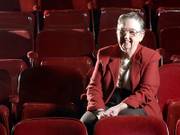 There isn't much Jane Malin hasn't done around Lawrence Community Theatre.
She's starred on stage, worked in the office, done costumes, baked cookies for the concession stand, helped select plays and organized volunteers.
"She pitches in wherever she's needed, and she doesn't call a lot of attention to herself," says Mary Doveton, the theater's director. "She sees something that needs to be done and does it."
Malin, 80, has volunteered at the theater since she retired to Lawrence, her home town, in 1986. Most of her career was spent as a professor of foreign languages at the University of Houston.
She says she was looking for something to do in her retirement, and a friend suggested she try Lawrence Community Theatre.
"I don't have much in the way of family," she says. "This place is pretty much it. The people I work with are wonderful. They're here because they want to be. They're talented and caring."
Malin's actress credits include "Grace and Glorie," which earned her a regional "best actress" award from the American Association of Community Theatre in 1999. She also was in "Arsenic and Old Lace" and, more recently, "The Mousetrap."
She'd like to return to the stage but admits there aren't too many roles for 80-year-old women. Still, she stays busy, volunteering one morning a week in the theater's office and does other work as needed.
"There's always something to do," she says. "I never run out of things to do."
Copyright 2018 The Lawrence Journal-World. All rights reserved. This material may not be published, broadcast, rewritten or redistributed. We strive to uphold our values for every story published.