Watching television, listening to the radio, answering the phone, surfing the Web, thumbing through the mail or even just answering the doorbell won't be for the weak-hearted during the next few days.
Campaigns and special-interest groups are raising the political pitch to persuade voters before the final rush to Tuesday's election.
And they will try to get your attention at every opportunity.
"The reason campaigns do everything in the last few days is because they have no idea what is going to work, what is it going to make a supporter get off the couch and vote for them," said Bob Beatty, a political science professor at Washburn University in Topeka.
Beatty said candidates didn't want to wake up after Election Day on the losing side, wondering whether they could have done more to try to win.
"That's why you see almost frantic behavior," he said.
There's also the fact that last-minute attacks are difficult to rebut, said Carol Williams, executive director of the Kansas Governmental Ethics Commission.
"A lot of mailings and advertisements will go out the last minute, and they typically are the most negative, so there won't be time to respond," Williams said.
On the ballot in Kansas are all statewide offices, state House seats and U.S. House positions, in addition to numerous other contests.
If that wasn't enough activity, Kansas suddenly appeared on the national political radar.
With the balance of power in Congress at stake, President Bush today will visit Topeka to help U.S. Rep. Jim Ryun, R-Kan., who is in a tough race against Democratic challenger Nancy Boyda.
Bush is scheduled to speak at the Kansas Expocentre at 6:20 p.m. while Boyda has a 1 p.m. rally at the Statehouse. Kansas Republican Party Chairman Tim Shallenburger said Saturday that the event sold out in three hours.
Anonymous calls
Williams said her office had been swamped with complaints from voters angry over campaign tactics.
The most common complaint is from folks getting bombarded with automated phone calls that have recorded campaign messages.
"They don't want to get them, or they say 'why don't the callers have to identify who they are,' or 'why am I getting this call, I'm on the No-Call list,'" Williams said.
More than 1.4 million Kansans have signed on with the No-Call registry, but while the Kansas No-Call Act prohibits unsolicited calls from telemarketers, it exempts several groups, including political candidates or issue organizations.
Photo Gallery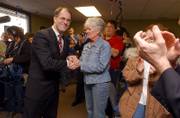 Republican Victory Tour 2006
And Williams said some of the calls had become particularly nasty and shrill.
Some have been directed at Democratic attorney general candidate Paul Morrison. Atty. Gen. Phill Kline, a Republican seeking re-election, said those kinds of calls had no place in Kansas politics.
Morrison spokesman Mark Simpson said the calls were "a sign of desperation by Kline's supporters."
Under Kansas law, groups responsible for calls are not required to register with the state or reveal where their funds are coming from.
During the last legislative session, Gov. Kathleen Sebelius vetoed a bill that would have required disclosure of telephone calls made by groups. She said she vetoed the measure because of other provisions that would have made it more difficult to cast absentee ballots.
Flow of money stays secret
Meanwhile, the flow of money funding the last-minute attacks will remain hidden until next year, and in some cases forever.
Under state law, the last campaign finance reports were filed last month. The final 11 days of fundraising and spending won't have to be reported until Jan. 10.
And many groups, which attack candidates but refrain from stating whom to vote for, don't have to report their contributions and expenditures at all.
While many of these groups were waging air and telephone wars, the candidates traveled the state looking for votes.
Republican officials and officeholders on Saturday concluded a three-day "Sunflower Express" bus tour that included a stop in Lawrence where area party officials said about 40 supporters warmly greeted a group of candidates that included Barnett, Kline, Insurance Commissioner Sandy Praeger and 3rd District congressional candidate Chuck Ahner, R-Overland Park.
"It's important that we get out and support the candidates of our choice, and we certainly hope that those candidates are Republican," Shallenburger said.Republicans also prepared for the president's visit to the Kansas Expocentre.
Meanwhile, Democrats throughout the state, including in Lawrence, conducted training sessions to get out the vote Tuesday.
On Saturday in Wichita, Sebelius campaigned door-to-door, also trying to help several Democratic state House candidates. Tonight, she and her lieutenant governor running mate Mark Parkinson will be at a campaign celebration at Abe & Jake's Landing, 8 E. Sixth St., with musical artist Marcia Ball.
Copyright 2018 The Lawrence Journal-World. All rights reserved. This material may not be published, broadcast, rewritten or redistributed. We strive to uphold our values for every story published.