Say "protest" and you think of hundreds or thousands of marchers or shouting students on a college campus in the 1960s.
But the sight of burning flags or freedom marches is much less common today among college students or others, even though the protest is still a tactic some groups use to speak out, including against proposed immigration laws, the Iraq war or to picket funerals.
"I think there is a significant student involvement now, but it was much larger in the Vietnam War," said William Scott, a Kansas University English professor.
Scott recalls sizable protests on campus during that era, and he attributes it to the draft, the tens of thousands of American deaths in the Vietnam War and the days before the 26th Amendment, which bumped the voting age down to 18.
Lawrence resident George Ulbrick, 57, last attended a protest 38 years ago in Grant Park in Chicago before the 1968 Democratic National Convention. He plans to hold a sign to speak out against the Iraq war on Sunday evening when President Bush visits Topeka to stump for Republican candidates.
"I come from the generation of the '60s where letting somebody know how you feel really did sway the course of the country, and I think it could happen again," Ulbrick said.
Many people in the country have become apathetic or caught in a mindset that one person can accomplish little, Ulbrick said. He attended a Friday night event in the east Lawrence studio of artist Dave Loewenstein, 411 E. Ninth St., with about a dozen others to prepare signs - mostly anti-war - to protest Bush's appearance Sunday.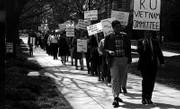 Most students today seem to have knowledge of political issues but less of them directly express themselves, Scott said.
Jenny Collins, a Shawnee senior in religious studies, said during her college career she had stopped by a women's rights demonstration once in front of Watson Library, but other than that she hasn't done sign-holding or shouting.
"It's really easy to placate our generation because we are so insulated," she said. "Especially being lucky enough to be in college and all of that, there's a lot of things that we are isolated from that are important issues, and because we don't have to see them or live with them every day, it's really easy to forget about them."
Protesting often also becomes alienating and more of a spectacle, Collins said.
"The point of protesting free speech is not to shout down the other person with your opinions but to let them have theirs and to be able to form some line of communication with that," she said.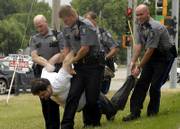 Scott, a longtime KU English professor, said he occasionally participates in the weekend vigils and downtown anti-war marches through the Lawrence Coalition for Peace and Justice, a group that has hosted weekly Saturday war protest rallies outside the Douglas County Courthouse since Sept. 7, 2002.
A few people waited in line for tickets to Bush's speech Friday afternoon at the headquarters of the Douglas County Republican Party, 3010 Iowa. Some of the president's supporters quickly snatched up the first 100 tickets and the next 100 were going fast as well, said Richard Todd, chairman of the county party.
Todd said protesting has become a tactic lately of fewer people who do it more often at more places, but he prefers "more positive" involvement in campaigns or at the voting booth.
"I don't have a problem with people protesting. Trying to shout people down and violence and threats and making people insecure about attending a rally is different," he said.
Whether for or against a certain issue or politician, some Lawrence groups still use protesting to draw attention to their point. But it's not easy, Ulbrick said.
"It's taking a stand that exposes you to criticism or to contrary views, and people would rather stay in the shadows," he said. "Obviously, anyone who has an opinion should stand behind it and be strong."
Copyright 2018 The Lawrence Journal-World. All rights reserved. This material may not be published, broadcast, rewritten or redistributed. We strive to uphold our values for every story published.