W. Clarke Wescoe led Kansas University through one of its most prosperous decades, the 1960s, when enrollment and the number of faculty nearly doubled.
But Wescoe, who died Sunday at age 83, may be best remembered for his leadership during some of KU's most tumultuous times, including protests of the ROTC on campus, racial discrimination and razing Old Fraser Hall.
"Chancellor Wescoe was a great leader of this university during one of the most challenging and turbulent periods in its history," current Chancellor Robert Hemenway said Monday. "As a testament to his considerable talent, he skillfully managed to enhance the quality of education at this university while also defusing explosive campus unrest and responding to the near doubling of enrollment."
A public memorial service for Wescoe will be at 4 p.m. March 10 at the Spencer Museum of Art. Private burial is scheduled at Pioneer Cemetery, on KU's west campus.
"The people and the campus have always meant a lot to him," said his daughter, Barbara Porto of Leawood. "That's why he chose to be buried at Pioneer Cemetery."
'A real loss'
Wescoe was KU's 10th chancellor, serving from 1960 to 1969. He succeeded Franklin Murphy.
He joined the KU faculty in 1951 as a professor of pharmacology at KU Medical Center. One year later, at age 32, he was named dean of the School of Medicine, making him the youngest medical dean in the nation. In 1953, he was named director of the Medical Center.
After leaving KU in 1969, Wescoe became a vice president at Sterling Drug Inc. in New York. He retired in 1985 as chairman and chief executive officer. He also served on several boards of directors, including the New York Stock Exchange, Phillips Petroleum and the Mayo Clinic.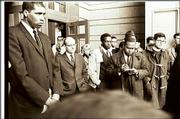 Wescoe lived much of his retirement life in Spicer, Minn., before moving to a Kansas City-area care facility in 1999, a year after his wife, Barbara Benton Wescoe, died.
"Certainly from where I sit, in human terms, this is a real loss," said Francis Heller, who served as dean of faculty during part of Wescoe's tenure at KU. "This is a man I greatly admired, and I certainly enjoyed working for him. I think he made his mark as chancellor for this university and he'll long be remembered."
KU's enrollment increased from 10,036 to 17,790 during Wescoe's tenure, the number of faculty increased from 573 to 917, and state appropriations grew from $13 million to more than $26 million. More than $43 million in new buildings were erected while he was chancellor, and he undertook an $18.6 million campaign for private support, then the university's largest capital gift campaign.
Wescoe first faced high-profile conflict in 1962, when he proposed -- and the Board of Regents approved -- razing Old Fraser Hall, a campus landmark since 1872. The building was demolished in 1965.
Also in 1965, as many as 400 members of KU's Civil Rights Council staged a sit-in near Wescoe's office in Strong Hall. The group asked that administrators stop allowing fraternities and sororities to exclude minorities, that a board be created to investigate racially discriminatory practices by landlords and that the administration cut ties with organizations that discriminated. The students were arrested and taken to the Douglas County Jail.
Wescoe said he hadn't heard complaints about discrimination but that his administration would work on the problems. The university eventually met most of the students' demands.
The incident was a good example of Wescoe's resistance to radical change, said Rusty Monhollon, a KU graduate and author of "This is America? The Sixties in Lawrence, Kansas."
"He was caring and compassionate, but he wasn't a crusader for justice," said Monhollon, a history professor at Hood College in Frederick, Md. "He was more of a wait-and-see, one-step-at-a-time leader when it came to integration and civil rights. I wouldn't call him an obstacle to change, but I think he was in favor of incremental change."
Some tough times
Born: May 3, 1920, in Allentown, Pa.Died: Sunday, Feb. 29, 2004, in Kansas City, Kan.Memorial service: 4 p.m. March 10 at the Spencer Museum of Art. Private burial is planned at Pioneer Cemetery.Career: Professor of pharmacology at Cornell University, 1948-1951; professor of pharmacology at Kansas University, 1951-1953; director of the KU Medical Center 1953-1960; KU chancellor, 1960-1969; vice president and later chairman of Sterling Drug Inc., 1970-1985.Namesakes: Two KU buildings are named for Wescoe -- Wescoe Hall on Jayhawk Boulevard and Wescoe Pavilion at the Med Center. Also, his alma mater, Muhlenberg College, renamed its continuing studies program the Wescoe School.
When the anti-Vietnam War protests of the late 1960s escalated, Wescoe began to consider leaving academia, Heller said.
The biggest protest came in 1969, after Wescoe announced his plans to resign. He canceled an ROTC drill after protesters interrupted the event with anti-war chants.
Heller said Wescoe didn't understand the lack of respect toward university administrators.
"It was very tough on Dr. Wescoe," Heller said. "He came from a Lutheran minister's family, went to a Lutheran college. He had in most of his life been in a fairly authoritarian setup, and he took it personally if a student came to his office and wasn't halfway decently dressed."
In announcing his resignation, Wescoe told the Journal-World the change in the student body was a big reason he wanted to step down, though he called his time at KU "full and satisfying and fruitful years."
"There are times, and I believe this is one, when a new voice, a new face, a new approach is required," he said.
Cliff Conrad, who served as student body president during the 1968-69 school year, said Wescoe realized his time to lead the university had passed.
"I've always respected that," said Conrad, now a professor of higher education at the University of Wisconsin-Madison. "He realized the university needed a different kind of leadership."
Wescoe was succeeded by E. Laurence Chalmers, who was chancellor from 1969 to 1972.
Heller said he'd always remember Wescoe for his personality. He often brought legislators over to Heller's house for drinks, Heller said, because alcohol wasn't allowed in the chancellor's residence.
And Heller said he'd remember Wescoe writing alternate lyrics to popular songs, such as "Hello, Dolly!" which he rewrote as "Hello Seniors" for the 1967 commencement ceremony.
"He'd just break into song," Heller said. "He had a good voice, and it was immensely popular."
Copyright 2018 The Lawrence Journal-World. All rights reserved. This material may not be published, broadcast, rewritten or redistributed. We strive to uphold our values for every story published.