Washington — By accounts, Henry Paulson Jr., President Bush's nominee for Treasury secretary, is a team player. He supports the president's tax cuts, free trade and free markets and contributed generously to Republican causes.
But even if there's not a huge expectation of a change in economic policy under Paulson, a lot will be different.
One can expect a shift in tone, a better understanding of financial markets, and a closer relationship with the Chinese from this veteran Wall Street financier who heads the Goldman Sachs International investment banking firm. Paulson replaces John Snow, a railroad executive who had his ups and downs in the job.
Paulson's strength may be in working around the edges of current policy, particularly in expanding free trade and pressing China and other Asian nations to strengthen their currencies against the dollar in order to help American companies compete on a fairer basis. He also could be instrumental in breaking the impasse over a new world-trade agreement.
Paulson, who was raised on a farm in the Chicago area and spent much of his financial career there, will be a rarity in the post of the government's chief financial officer.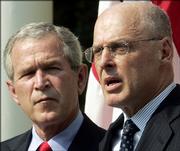 He is an environmentalist and is said to enjoy bird-watching as a former chairman of the Peregrine Club. He is not the typical golf-course denizen that many business leaders are. He was a football star at Dartmouth, an offensive lineman who received honorable mention as an all-American. And he is a member of Phi Beta Kappa.
Paulson is a financial heavy-hitter, precisely what the administration needed at a time that the president's poll ratings are in the doldrums. As such, he may be used to help the president do a better job of selling the economy's performance to the American people.
Many Bush administration officials do not believe the president is receiving adequate credit for the economy. Karl Rove, the president's key political adviser, is reported to be concentrating his efforts on persuading Americans they should thank Bush much more than they do for strong economic growth.
Copyright 2018 The Lawrence Journal-World. All rights reserved. This material may not be published, broadcast, rewritten or redistributed. We strive to uphold our values for every story published.