Washington — Israeli Prime Minister Ehud Olmert told a joint meeting of Congress on Wednesday that Israel would be a "willing partner in peace" with the Palestinians, but would draw its own borders in the West Bank should it conclude it has no negotiating partner.
"We cannot wait for the Palestinians forever," Olmert told members of the House and Senate gathered in the House chamber. "Our deepest wish is to build a better future for our region, hand in hand with a Palestinian partner, but if not, we will move forward, but not alone," he said, alluding to promised U.S. support.
Olmert drew a sustained standing ovation when he declared, "We will not yield to terror," a reference to suicide attacks on Israelis such as those that killed a 16-year-old American high school student observing the Passover holiday in Israel this year. Daniel Wultz's parents sat in the House chamber, sobbing, as Olmert mentioned their son.
Olmert also drew long applause for tough words condemning whet he said is Iran's drive to build nuclear weapons and the escalating anti-Semitic rhetoric from its leader.
"If we don't take Iran's bellicose rhetoric seriously now, we will be forced to take its nuclear aggression seriously later," the prime minister said.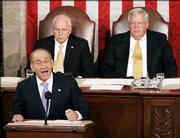 Olmert said the West Bank withdrawal is vital to Israel's security and the cause of peace and cannot go forward without U.S. support.
In a policy shift on Tuesday, the White House gave unexpected backing to Israel's plan to unilaterally set its borders with the Palestinians should their new Hamas leaders refuse to disarm and renounce their call for Israel's destruction.
From the U.S. Capitol podium on Wednesday, Olmert called on the moderate Palestinian president, Mahmoud Abbas, to seek a negotiated solution - the preferred route for both Olmert and Bush.
"With a genuine Palestinian partner for peace, I believe we can reach an agreement on all the issues that divide us," the Israeli leader said.
If the Palestinians "ignore our outstretched hand for peace," Olmert said, "Israel will seek other alternatives to promote our future and the prospects of hope in the Middle East."
Hamas' victory in January Palestinian parliamentary elections damped peace prospects because of the group's violently anti-Israel ideology.
Copyright 2018 The Associated Press. All rights reserved. This material may not be published, broadcast, rewritten or redistributed. We strive to uphold our values for every story published.