Limerick, Pa. — Calling nuclear power an overregulated industry that needs a jump-start from Washington, President Bush on Wednesday pitched his plan to expand nuclear power generation by dealing with radioactive waste, lessening regulations and reviving nuclear fuel processing.
The backdrop for the president's effort was the Limerick Generating Station, a nuclear plant operated by Excelon Corp. about 40 miles from Philadelphia. Bush donned a white hard hat for a brief tour, then spoke to employees in a sweltering tent set up in the shadow of the plant's two enormous cooling towers.
Bush argued that nuclear power is abundant, affordable, safe and clean.
"For the sake of economic security and national security, the United States of America must aggressively move forward with the construction of nuclear power plants," Bush said. "Other countries are."
Some environmentalists have abandoned their opposition to nuclear power, arguing it is needed to address climate change because reactors do not produce "greenhouse" gases as do fossil fuels. Other environmentalists are not convinced, citing worries about reactor waste and safety.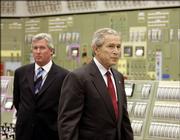 Bush touted a range of ways he wants to make America less dependent on hydrocarbons, including promoting ethanol-, hydrogen- and battery-powered cars, clean-coal technology, wind and solar power and liquefied natural gas.
There are 100 nuclear power plants scattered across 31 U.S. states, but has an order has not been placed for a new reactor since 1973. A broad energy bill Bush signed last summer provides incentives for building again, and Bush said interest is up eight-fold.
The public is evenly divided on the question of building more nuclear plants, recent polling has found.
The United States abandoned nuclear fuel reprocessing in the 1970s because of proliferation concerns.
Copyright 2018 The Associated Press. All rights reserved. This material may not be published, broadcast, rewritten or redistributed. We strive to uphold our values for every story published.