Los Angeles — Rohit Sarang of Bombay, India, was a Chris Daughtry fan but is eager to see if Katharine McPhee or Taylor Hicks is crowned the latest "American Idol."
Leong Ai Syn of Kuala Lumpur, Malaysia, shares the anticipation.
Joining them are television viewers from Israel to Iceland to Japan and beyond. When "American Idol" sings, a fair share of the world is listening.
The show originating on the Fox TV network here has proven its international appeal even as the format is reproduced in more than 30 versions tailored to specific countries and languages.
"Hrvatski Idol" in Croatia and "Deutschland Sucht Den Superstar!" in Germany have the stage to themselves. But in Iceland, fans can watch both "Idols - Stjornuleit" and "American Idol." "Malaysian Idol" is a smash hit while another camp favors the U.S. import.
Episodes are seen about 48 hours after they air in America and international viewers can't help decide the outcome by phone or text messaging, as in the United States. But those issues don't matter to followers.
"It's fine that we can't vote in India. I don't care about that," said Sarang, 32, an engineer who makes sure his family records "American Idol" if he isn't home for it. "It's fun just watching a show that's well-produced with songs that are well-known."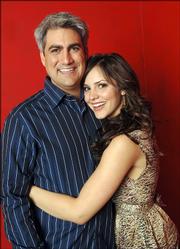 In Malaysia, locally created "Malaysian Idol" has been hot since debuting in 2004, with about 1.6 million votes cast for the second season's finale last September - an impressive number in a population of 26 million.
But the country also is taken with "American Idol," which has provoked fervent debate on radio shows and the Internet, as it has in the United States.
"I think 'American Idol' is addictive because you get to watch really talented people turn into big stars," said Leong, 29, an information technology consultant. "Everyone wants to see who the next Kelly Clarkson will be."
Since its second year on Fox, the U.S. show "has gradually gone into the international marketplace. And it's been very, very successful," said David Ellender, chief executive officer of Bertelsmann AG-owned FremantleMedia Enterprises, whose FremantleMedia North America produces the program (with 19 Entertainment).
Ellender declined to discuss how much money the "Idol" brand generates internationally. But with advertising, license fees, merchandising and recording revenues taken together, the figure, according to one report, exceeds $1 billion a year.
Fremantle doesn't have the talent-contest market to itself. Competitor "Operacion Triunfo" has enjoyed popularity in Spain and Latin America, while the memorably titled "The Mongolian Cow Sour Yogurt Supergirl Contest," sponsored by the Mongolian Cow Dairy, was a Chinese hit.
"American Idol," however, must be the genre's best-traveled example. It's shown in about 20 markets via terrestrial broadcasting and reaches another 60-plus markets through satellite feeds for Latin America, the Caribbean, Asia and the Middle East, for a total of 154 countries, Fremantle's Ellender said.
While "American Idol" is the top-rated U.S. show, viewership abroad is difficult to measure. But "in terms of the response they're getting from advertisers, from people writing or e-mailing to the channel, clearly it's working because they're continuing to renew" the series, he said.
Copyright 2018 The Associated Press. All rights reserved. This material may not be published, broadcast, rewritten or redistributed. We strive to uphold our values for every story published.