Sam Bennett is fascinated with the life of cells. Captivated by their migration, she's transformed her art into a vivid textile journey of the changing cell and the cancerous invasion that can occur in the body.
Designing and creating her pieces has become a sort of therapy for Bennett, whose grandfather died of cancer.
"It sounds rather morbid, and it is, but visually I don't think they come off quite that depressing," says Bennett, a senior from Olathe. "When someone looks at my work, I don't expect them to understand everything I am thinking when I am creating it."
Applying her inspiration to fabrics with deep-colored dyes, Bennett has created a cell cycle out of delicate silk gauze, dissolving threads and embroidered doilies. A former pre-med major turned design student, Bennett uses her biological knowledge as a catalyst for her art, which will be on display at the Bachelor of Fine Arts Senior Show starting today.
Running through Tuesday, the show will feature about 28 students, mostly graduating seniors, who will showcase their work at the inaugural show in the Art and Design Gallery. The exhibition will feature an array of pieces in ceramics, metalsmithing and textiles, the three-degree tracks under the department of design in the School of Fine Arts.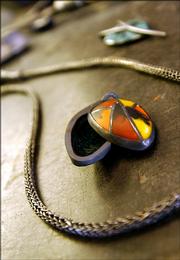 "It's always really exciting to see your stuff in a gallery because we're pinning them up on a dirty studio wall - I want my craft to be really well-done and pinned up there, and it looks nice," Bennett says. "I'm excited to see how my family sees what I've done."
The exhibition will reveal work students have created during the course of their studies. Displaying anywhere from five to eight pieces, depending on size, some students will be selling their work, while others will keep it on display.
David Vertacnik, associate professor of ceramics, says the exhibition will be a range of pieces, as it should be.
"Collectively as a faculty we wanted to showcase the undergraduate work, and to give them an opportunity to show their talents," Vertacnik says. "Not everybody receives honors, or gets into the honors exhibition - but yet they should have an opportunity to show their work, and that's what this is at least a venue for."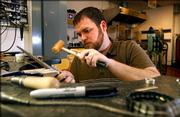 Under the textiles curriculum, Bennett created her piece through weaving, screen-printing and fabric manipulation. Meanwhile ceramic students have created slip cast, hand-built and wheel-thrown pieces, offering a variety of stoneware.
Blaine Carver-Allmond is among the students who have manipulated metals into art jewelry.
Pursuing original ideas and casting them into a piece of jewelry has kept him from falling into the doldrums of mainstream design.
If you go
What: KU Bachelor of Fine Arts Senior Show When: 12:30 p.m.-3 p.m. today; 1 p.m.-4:30 p.m. Sunday; 8:30 a.m.-3 p.m. Monday-Tuesday Where: Art and Design Gallery; third floor north in the Art and Design Building, 300 Jayhawk Blvd. Featuring: 28 student artists from ceramics, jewelry and textiles
"I work off the beaten path but still in a style that can be worn," says Carver-Allmond, a senior from Pittsburg. "I try and stick to designs that are still wearable yet aren't in the normal realm of things."
Carver-Allmond is pursuing a degree in metalsmithing. After taking a metal class at Pittsburg State University, Carver-Allmond fell in love with metals and creating art jewelry.
Displaying work for the community bodes well for Carver-Allmond and his future plans. With a desire to open a small design firm, possibly in Lawrence, his ability as a designer and working with clients could be beneficial.
"I would be willing to work with anyone to do a custom piece that's more feasible like something they want, a little less what I do," Carver-Allmond says. "It still takes my artistic drive and my ability to create a piece that they're going to like."
Copyright 2018 The Lawrence Journal-World. All rights reserved. This material may not be published, broadcast, rewritten or redistributed. We strive to uphold our values for every story published.