San Diego — A busy U.S-Mexico border crossing was shut down Thursday after U.S. authorities shot and killed the driver of a car headed for Mexico, officials said.
The shooting occurred on southbound Interstate 5 around 3:30 p.m. about 50 feet north of the San Ysidro Port of Entry, the world's busiest border crossing, which links Tijuana, Mexico, with San Diego.
The driver, who was not immediately identified, was pronounced dead at the scene with multiple gunshot wounds, said Maurice Luque, a spokesman for the San Diego Fire-Rescue Department.
U.S. Customs and Border Protection agents began following a black SUV after a person reported seeing the vehicle pick up suspected illegal immigrants near the U.S. side of the border, police said.
As traffic backed up near the border, the vehicle stopped on the shoulder. When agents approached, the suspect began to drive off, said police Lt. Kevin Rooney. Two agents then opened fire.
Five passengers in the vehicle, whose identities were not released, were taken into custody and were being interrogated, Rooney said.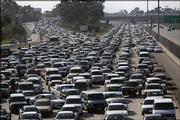 The black Dodge Durango sat in the middle of the road late Thursday with a shattered driver's side window. The California Highway Patrol sealed off southbound access to the border and rush-hour traffic was backed up over a mile. Police redirected drivers to a nearby crossing.
Anna Valderrama, of Tijuana, who was about four vehicles back when the shooting occurred, said she regularly crosses the border and had never seen such a disturbance.
"I was going to eat with my family," said Valderrama, stuck in her car for over two hours. "I feel desperate to go home."
Copyright 2018 The Associated Press. All rights reserved. This material may not be published, broadcast, rewritten or redistributed. We strive to uphold our values for every story published.