New York — The coronation comes Wednesday night. But if the real prize is a jump-start on a career in show business, "American Idol" will, as usual, end the season with more winners than just the official one.
The previous four first-place finishers on TV's top-rated program have stretched their 15 minutes into recording careers ranging from promising to inarguably successful.
So, too, though, have many of the weekly castaways, who also have landed sweet gigs in music, movies and the stage. (Exhibit A: second season runner-up-turned-unlikely heartthrob Clay Aiken).
Kelly Clarkson, who won the show's first edition in 2002, has lived up to her title. The 24-year-old spiced up her girl-next-door image - and distanced herself from "Idol" - to become a major star, nabbing two Grammys this year for best pop vocal album for "Breakaway" and female pop vocal performance for the song "Since U Been Gone."
Clarkson nurtured her "Idol" afterglow by collaborating with respected music producers and writers, and, in turn, delivering "great hit material," said Tom Corson, executive vice president of J Records, a label within the Sony-BMG company, which signs the show's singers.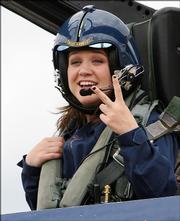 Carrie Underwood, the 23-year-old blonde, blue-eyed country crooner from Checotah, Okla., has sold about 3 million copies of her 2005 disc, "Some Hearts," the fastest-selling debut of any "Idol" champ.
"It's a Cinderella story," said Corson, predicting Underwood will become the "next Faith Hill or Shania Twain."
Fantasia Barrino, who won the show's third edition, is another local-gal-makes-good tale. The Grammy-nominated Barrino - a 21-year-old single mom and high-school dropout from North Carolina - sold nearly 2 million copies of her 2004 album, "Free Yourself."
And in her first major acting gig, she'll star as herself in an upcoming Lifetime movie. Working title: "Life Is not a Fairy Tale: the Fantasia Barrino Story."
Then there's second season champion Ruben Studdard. The big-voiced soul singer dubbed the Velvet Teddy Bear is, so far, the winner with the slightest payoff. His two discs - "Soulful" and the gospel-flavored "I Need an Angel" - chalked up solid sales but lacked the buzz of the records by his female counterparts.
On the it-doesn't-hurt-to-lose side of the "AI" ledger, Aiken, who lost out to Studdard, has invited comparisons to Barry Manilow thanks to his theatrical style and loyal fans, known as Claymates. Aiken, 27, sold nearly 4 million copies, combined, of his records "Measure of a Man" and "Merry Christmas with Love."
None of the also-rans have hit as big as Aiken, certainly not in terms of record sales. But career doors have clearly opened.
Diana DeGarmo, season-three runner-up to Barrino, has just completed a run on Broadway in the musical "Hairspray," and has joined the national tour of "Brooklyn: The Musical." Feisty Jennifer Hudson, who also got the boot in the show's third edition, beat out Barrino to star opposite Beyonce Knowles and Jamie Foxx in the upcoming musical "Dreamgirls."
"They didn't give up," Barrino told the AP of her castmates. "They got record deals. They're acting. They're doing different things, so it's like an opportunity ... Even if you don't win, you still come out a winner.
Copyright 2018 The Associated Press. All rights reserved. This material may not be published, broadcast, rewritten or redistributed. We strive to uphold our values for every story published.