Washington — Gen. Michael Hayden, nominated to be the next director of the CIA, told a Senate committee Thursday that he initially resisted Bush administration suggestions to expand domestic wiretaps on U.S. citizens after the Sept. 11 attacks, but that White House officials then convinced him the program was lawful.
Hayden headed the National Security Agency, which conducts electronic eavesdropping, when the controversial program was proposed to monitor international calls between suspected al-Qaida operatives and people in the United States. It caused a furor when its existence was revealed in December, with some Democrats and a few Republicans claiming it was illegal.
Hayden told the Senate Intelligence Committee, which is considering his CIA nomination, he at first told then-CIA Director George Tenet that the NSA was doing all that the law allowed on surveillance.
"Director Tenet came back to me and said, 'Is there anything more you can do?"' Hayden said. "And I said, 'Not within my current authorities.' And he invited me to come down and talk to the administration about what more could be done."
After that talk, Hayden said, he was convinced the NSA could go further. Then-Atty. Gen. John Ashcroft provided the NSA with a memo giving a basis for that eavesdropping authority, he said.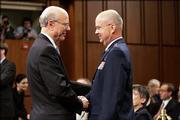 Hayden said he did not read the memo, but on Oct. 6, 2001, the NSA launched what the Bush administration has called a terrorist surveillance program. That program - along with the reported NSA collection of millions of domestic phone records from telephone companies for analysis - has complicated Hayden's confirmation. The programs also have raised questions about the influence the Bush administration has exerted over the intelligence agencies, and about who is accountable for their activities.
NSA eavesdropping was just one concern committee members raised with Hayden, who has spent much of his career working in military intelligence. The hearing also touched on politicization of intelligence analysis, treatment of CIA terrorism detainees, improved human intelligence sources, press leaks and whether committee members or Congress receive enough briefings on intelligence matters.
None of those issues seemed to entangle Hayden, though he insisted on answering some of the most sensitive questions in a closed committee session after the public one. Hayden enjoys solid support among Republicans and has won initial praise from some Democrats. During the hearing, Hayden received mostly genteel treatment from committee members. But senators from both parties criticized the Bush administration, and by inference Hayden, for failing to brief the full committee on the domestic eavesdropping initiative until Wednesday. That decision, they suggested, seemed designed to defuse congressional complaints that only a handful of lawmakers had been briefed about the wiretapping.
Copyright 2018 The Lawrence Journal-World. All rights reserved. This material may not be published, broadcast, rewritten or redistributed. We strive to uphold our values for every story published.