The days of Public Works director Chuck Soules pulling his hair out over the deteriorating section of Kasold Drive between Bob Billings Parkway and 22nd Street are about to end.
"It seems like every week we are patching potholes on that stretch of road," Soules said. "But then every time I drive the road, a new one pops up because I always hit one."
Construction crews on Wednesday began a project that will completely rebuild the road, which will ease Soules' frustrations. But the project might increase frustration levels for motorists, at least while construction is under way.
That's because the rebuilding project will reduce traffic to one lane in each direction, and is expected to last until September 2007.
"It will be worth it," Soules said. "It will be a very smooth road, and I think it will be a lot more visually attractive."
And Soules said the thousands of visitors coming into the city for Sunday's three graduation ceremonies - Kansas University, Lawrence High and Free State High - will get a reprieve from the project. Even though work started Wednesday, Soules said the construction crews won't actually begin tearing the street up until Monday. That will allow both lanes of traffic to open in each direction.
"We wanted to do what we could to keep the street open to better serve the community during the busy weekend," Soules said.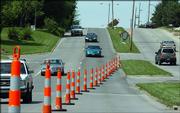 Graduation visitors traveling along the southern portion of Massachusetts Street won't be so lucky. A project to replace aging sewer lines will reduce traffic to one lane in each direction on Massachusetts Street between 13th and 17th streets. That project is expected to last into August.
Lisa Patterson, a city spokeswoman, said construction crews already had created several holes in the street that could not even be temporarily fixed to allow traffic to use the lanes this weekend. And she said while the city tries to plan construction projects around large events like graduation, it was not always possible.
"There's a limited amount of time in Kansas where we can do these type of projects that are really weather-dependent," Patterson said.
Motorists, especially near the Kasold project, generally were understanding of the delays they'll be facing in the future.
"As long as people let others get in there and drive properly, it will be all right," said Lawrence resident Lloyd Bourque.
More about Sunday's heavy traffic
Soules suggests that motorists consider using either Iowa Street or Wakarusa Drive as north-south routes across town rather than Kasold. But he knows that won't work for everyone. The section of Kasold Drive carries about 30,000 vehicles a day. For people who must use the road, Soules is asking motorists to keep safety in mind.
"They'll definitely need to slow down," he said.
The $5.4 million project represents the first time the city has rebuilt the road since the 1970s. The road has been repaved several times in the last few years, but Soules said repaving no longer was a good option because the base of the road had deteriorated to the point that the pavement broke down quickly.
When completed, the road will continue to have two driving lanes in each direction, a new sidewalk on the west side of the road, and a new median that will be more heavily landscaped than the current grass median.
Copyright 2018 The Lawrence Journal-World. All rights reserved. This material may not be published, broadcast, rewritten or redistributed. We strive to uphold our values for every story published.