No one walks away empty-handed.
That's the promise Project Graduation organizers are making to every high school senior in Lawrence who attends this year's installment of the annual party, where $15,000 in cash and prizes will be doled out.
And chief among the coveted freebies is a 1995 Ford Thunderbird donated by Laird Noller Ford.
"The car's cool," says Alex Folsom, a senior at Free State High School. "I know a lot of kids at school have been talking about the car and are really excited about that."
But Folsom, who plans to attend Kansas University in the fall, has his eye on something smaller.
"I'm hoping to get the laptop because I could really use one," he says.
Also in the grab bag are an Xbox, iPod, refrigerator, microwave, television, scooter and dozens of gift certificates for products and services from local businesses.
As with prizes, entertainment won't be in short supply at the event, scheduled from 10 p.m. Sunday to 3 a.m. Monday at Abe & Jake's Landing, 8 E. Sixth St. Among the activities to keep partygoers busy are a casino room with blackjack, roulette and Texas Hold 'Em, a karaoke room, a DJ and dance floor, basketball, faux tattoos, tons of food and beverages - and a 20-person Twister game.
"That should be kind of comical," says Laurie Muder, mother of a Lawrence High School senior and one of four event co-chairs.
Senior parents like Muder organize Project Graduation each year to provide a safe, alcohol- and drug-free environment for their children to celebrate their accomplishments.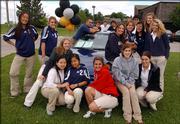 "Prom and graduation nights are typically the most dangerous nights on the road for seniors," Muder says. "In addition to that, of course, we want to place the emphasis on the kids having a great time and celebrating a huge milestone in their life."
Students are attracted to the concept too. Anywhere from 550 to 650 revelers - roughly 75 percent of Lawrence graduates, Muder says - have attended past parties.
"I'm going mainly because I support the idea of a safe way for kids to be together on the last night after graduation," says Folsom, 18. "It's a supervised party, and I think it's better than going out and doing something ridiculous and getting hurt."
About 160 parents volunteer to staff the party, which is open to seniors at Free State and Lawrence high schools, as well as Bishop Seabury Academy, Veritas Christian School and the Lawrence Virtual School.
"I think one of the special things about the way that Lawrence does this is that we bring all the high schools together," Muder says. "A lot of these kids attend elementary and junior high together, and then they get split up to go to different high schools. It's just such a nice thing to bring them back together.
"They put those rivalries away, and they're all just friends again."
Copyright 2018 The Lawrence Journal-World. All rights reserved. This material may not be published, broadcast, rewritten or redistributed. We strive to uphold our values for every story published.