Mount Merapi, Indonesia — Mount Merapi erupted violently Monday, sending searing gas clouds and burning rocks down its scorched flanks and threatening villagers who refused to leave because of ancient mystical beliefs.
The activity triggered renewed panic and fresh evacuations of some closest to the crater, but others ignored urgent warnings to leave.
The volcano in the heart of densely populated Java Island had been rumbling for weeks, spewing ash high into the air and pushing lava to the surface, where it has formed a large unstable dome.
On Saturday, authorities declared the highest danger alert, triggering mandatory evacuations for some 4,500 residents.
A sharp increase in activity Monday saw near hourly surges of clouds containing volcanic gas, rock fragments and other debris that tumbled as far as 2.5 miles down the mountain's western slopes - twice as far as a day earlier, volcanologists said.
"I am panicking this time," said Katimi, a mother of three and one of thousands who boarded vans and trucks to seek shelter in mosques, government buildings and schools. "Merapi appears angry," she said.
Hospitals and clinics were preparing for the worst.
Merapi, the most active of 129 live volcanoes in Indonesia, sent out a deadly cloud of gas that incinerated 60 people in 1994, and about 1,300 people died in a 1930 eruption.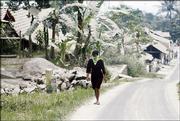 "We are prepared for some of the things that we may deal with, (from our experience) in the previous eruption in 1994 - treating burn injuries caused by the hot clouds, and also treating broken bones," said Ning, the head of a local medical center. Like many Indonesians, he uses one name.
The clouds of volcanic ash, gas and debris, known to experts as pyroclastic flows, are the biggest threat to residents, who are drawn to Merapi's slopes because its fertile volcanic soil makes for bumper crops.
"They are like a glowing avalanche that just incinerate everything in their path," said Lynton Jaques, from Australia's geoscience agency. "There is a real risk for people living on its flanks."
Scientists warn the unstable lava dome could collapse, sending out a deadly cloud of gas like the one in 1994.
Residents call the clouds "Wedhus Gembel," or "shaggy sheep clouds," because they resemble tightly curled balls of wool as they avalanche down the mountain at speeds of more than 60 mph.
About 200 villagers living within the danger zone refused to budge.
Copyright 2018 The Associated Press. All rights reserved. This material may not be published, broadcast, rewritten or redistributed. We strive to uphold our values for every story published.