Catherine Glewwe goes through a lot of books in a few days.
She does it not by reading, but by listening to them. Audio books help make her day as a mail clerk at NCS Pearson go faster and smoother.
"It helps a lot," the 22-year-old Lawrence woman said.
Glewwe is the kind of patron libraries are trying to entice these days. In fact she checks out her audio books from the Lawrence Public Library.
In addition to checkouts at the library, earlier this year the library started offering audio books for downloading from its Web site. This month the State Library of Kansas also started offering a service that allows patrons to download audio books and music.
"We're getting a significant number of downloads. We're very happy with it," said Eric Hansen, state library spokesman.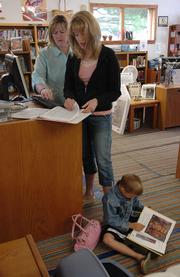 Since the service started on May 1 there have been nearly 1,500 downloads through Thursday, Hansen said. The average number of new users per day has been 49, he said.
The service, called Audio Books, Music and More, enables Kansans anywhere with a computer and a state library card to browse and check out audio books from participating libraries. More than 50 libraries are sharing their resources with the service, which is provided by OverDrive Inc., (www.overdrive.com).
To find out details about the service and to find out how to get a state library card, which can be downloaded, go to www.kslc.org. You also will need to download free reader software. Downloads can be made to personal computers, MP3 devices, pocket PCs and some smartphones.
Downloads to a computer will last during the length of the checkout time, which is generally 14 days. After that time the download is disabled and can't be used. There are many music titles that won't allow the download to be burned to a CD. Books might be burned to CDs but it will take several of them for a complete book.
More about audio books online
"There are only a couple of other statewide programs like this so we are one of the leaders and we occasionally get calls from others asking how we do it," Hansen said.
The Lawrence library is not one of the participants in the state service because it has a different service through NetLibrary audio books.
Patrons of small town libraries will have more choices through the state system. The Basehor Public Library is participating because librarians there think it is a good program with a wide range of choices available because so many libraries are participating and contributing their titles, assistant library director Jenne Laytham said.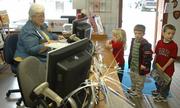 "It sounded very cutting edge, and we wanted to get involved on the ground floor and get running with it so we could offer it to our patrons," Laytham said. "Also our staff will be able to help with questions and promote it because it is a very good program."
Both Hansen and Lawrence library director Bruce Flanders said they had not heard of any serious download problems.
Glewwe, however, noted that after downloading to a computer the Lawrence library system isn't compatible for transferring to a portable iPod player, which has become increasingly popular. Neither is the state download program.
Since it started in February the Lawrence library has been averaging about 400 downloads for its audio books. It doesn't offer music downloads. Flanders said he hopes the downloads increase as more people find out about it. He hopes it increases to 1,000 downloads a month.
"We plan to hang in there a year and see how it goes," Flanders said.
Copyright 2018 The Lawrence Journal-World. All rights reserved. This material may not be published, broadcast, rewritten or redistributed. We strive to uphold our values for every story published.