After a week at home, my daughter Bonnie was packing up and getting ready for the long road back to the University of Iowa. Her boyfriend, Arna Hemenway, would be doing the driving from Lawrence to Iowa City.
"Do you guys ever listen to audiobooks on the way?" I asked.
"Arna does. That's the only thing he listens to during the drive," Bonnie said.
"Does he have eAudiobooks or just regular cassettes?"
"Both," she said, walking downstairs to retrieve a load of laundry. "You should ask him."
Books on the go
If you're on the road this week for a spring break trip, or if you do a lot of commuting, you might find audiobooks as a new way to keep up with today's latest literature.
They've been around for awhile, mostly in the form of cassette tapes or CDs.
But the latest form are in downloadable digital files. Known as eAudiobooks, you can listen to them on a variety of devices, including laptop computers, many mp3 players, or even some cell phones or hand-held devices.
"eAudiobooks, or the downloadable audiobooks, have been around for a few years," Bruce Flanders, director of the Lawrence Public Library told me this week.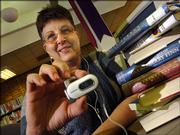 But there's been a recent development within the last year: More libraries are offering them to patrons as Windows Media DRM files - digital audio files that expire after a time period.
That capability is helping libraries across the country "check out" eAudiobooks to their patrons as easily as they would a physical audiobook or a hard cover book, Flanders said.
"We can check out the files and they remain active for a limited amount of time and they deactivate on their due date," he said.
The Lawrence Public Library began offering such DRM (digital rights management or digital restrictions management) files to their patrons a couple of weeks ago through NetLibrary.com. DRM files are designed to restrict the duplication of copyrighted digital content, such as music, books and movies.
All you need is to set up an account is the number from your library card and you can visit www.lawrencepubliclibrary.org and start downloading books.
You can search by keyword, author, title and narrator.
The DRM files stay active for 21 days. You can renew the files, just as you would renew a physical audiobook.
Not for iPods
Unfortunately, NetLibrary.com and another system offering books to libraries, OverDrive.com, only offer Windows Media DRM files, which don't play on the most popular and common mp3 players out there - Apple's iPods.
"It's a Windows-only solution, which is unfortunate, and they don't work on iPods, which is tragic," Flanders said. "And it's not our fault."
Apple, which has about an 80 percent share of the mp3 player market, uses its own proprietary FairPlay DRM files offered through its iTunes music store.
However, NetLibrary.com's DRM files will play on lots of other mp3 players that read 34 kilobyte-per-second WMA files, Flanders said.
"The ones that work best are the ones that have bookmarking capabilities," he said. That function allows you to mark where you are in an audiobook, turn off the mp3 player, then return to that same spot on the recording later.
"Without it, it's a little more difficult to use these kinds of files," he said.
You'll want a player that will hold at least 256 megabytes of data, which will hold about one book. The bigger the flash memory or hard drive, the more books you can take with you.
Lots of options
Rio offers several players with the bookmarking function: The Rio Nitrus, which has a 1.5 gigabyte player; Rio Carbon 6, which has a 6GB drive; Rio ce2100, 2.5GB drive; and the Rio Karma, 20GB drive. Prices range from $150 to $250.
Creative's Zen Micro also has bookmarking capabilities and is available with 4-, 5- and 6-gigabyte drives ($179-229).
Other models the library has tested for the audio files, but don't offer bookmarking, include the Rio Forge Sport, Creative Zen Nano Plus, Creative MuVo Slim, Archos Gmini XS100, SanDisc 256 and the Dell Pocket DJ.
Wave of the future
"We've circulated 154 downloadable eAudiobooks in the first two weeks of the service," Flanders said. He predicted about 5,000 would be downloaded in the first year, as the service becomes more well known.
"We see downloadable materials as the wave of the future for circulation of library materials," he said. By 2010, he expects to be circulating many other kinds of DRM media, including movies.
One of the advantages of the digital format is that the library patron will always be able to get a copy of the book or other material - there's no limit based on how many physical copies are available.
"And they also don't need to be concerned with overdue fines or fees because when the material is due, then it simply becomes deactivated," he said.
Holding out hope
Flanders says he's holding out hope that some day NetLibrary.com's DRM files will work on iPods.
"That fact that it doesn't work on iPods is a nearly fatal flaw in the system," he said. "But we know that there are a lot of other kinds of mp3 players out there. And we thought we're going to give this a try anyway and hope that Apple comes around and starts working with these major vendors and with libraries around the country."
He encouraged iPod owners to contact Apple about working with the DRM files offered by NetLibrary.
"More and more public libraries are introducing this new service," he said. "So the marketplace may force Apple to open up a little bit."
However, some critics argue it should be the other way around - libraries should change the DRM formats they offer to work on the models dominating the mp3 player market, namely iPods.
It's like in the old days of the war over which dominant video format to use. It would be similar to asking owners of VHS players to contact the manufacturer to support the BetaMax format.
An iPod alternative
There are some free eAudiobook alternatives for iPods.
For example, the LibriVox.com Web site is a volunteer, public domain, free content, open source project that creates its own audiobooks in mp3 format that play on any mp3 player or computer.
Volunteers record chapters of books that are in the public domain and make them available to the public in mp3 format, which are playable on iPods.
There aren't as many offerings, but you can get some books, short stories and poetry.
Other free eAudiobooks are available on AudioBooksForFree.com and LiteralSystems.org. Project Gutenberg (gutenberg.org) offers eAudiobooks read by people and by computer-generated voices.
Buying and sharing
When Arna arrived to pick up Bonnie, he and I talked a little about audiobooks and I told him about the new library service.
"Usually I only listen to them on drives or when I play video games," he said. "You can process auditory information really well when your playing games because you're just reacting. It also gets rid of that guilt when you're playing video games - well, you've read a book."
He also said he has an iPod and recently bought an eAudiobook from Apple's iTunes online store, which also offers eAudiobooks from Audible.com.
Bonnie came downstairs with a load of clothes.
"Do you have anything to read on the way back?" I asked, noticing her microeconomics textbook on the floor.
She laughed.
"I'll probably just sleep most of the way."
Copyright 2017 The Lawrence Journal-World. All rights reserved. This material may not be published, broadcast, rewritten or redistributed. We strive to uphold our values for every story published.