Miami — Artist Pablo Cano walks around his studio garage pointing out his after-hurricane finds: a cracked gas station sign, plastic globes blown off outdoor lights, a power pole part left by electric company repairmen.
Cano makes marionettes, sculptures and canvases and has worked with found objects and thrift-store treasures for the past 20 years. Cupboards, shelves and drawers in his garage are stuffed with the goods he has gathered. But hurricane season, he says, always means fresh supplies. This past year, Cano estimates he collected more than 30 percent of his raw material in the week or so after Hurricane Wilma last October.
"It's taking a tragic event and making something positive," he said.
Cano isn't the only artist who found treasures in the wake of last year's hurricanes. The powerful storms inspired a handful of Florida artists to reclaim twisted storm wreckage and debris, turning it into art.
"Beyond making lemonade out of lemons, it's the idea that out of destruction comes creation," said Bonnie Clearwater, the executive director and chief curator of the Museum of Contemporary Art in Miami, which has put on a Cano puppet show for several years.
The idea of using hurricane debris in artwork builds on a long tradition of found object art, picking up discarded items and incorporating them into art, Clearwater said. Picasso used found objects as did surrealist and Dada artists.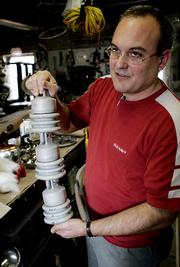 Cano, meanwhile, has been collecting after storms for years and makes regular trips to thrift stores.
"It's like, for me, like God painting. He takes a big brush and swipes it across the land. It's a tremendous canvas that we are all a part of," Cano said.
His backyard holds a sculpture called "Prince Miami," partly made from a buoy he found unmoored after Hurricane Floyd in 1999. A piece he made out of a Kentucky Fried Chicken sign he found after 1992's Hurricane Andrew is in the permanent collection of the Museum of Art in Fort Lauderdale. This month, several of Cano's marionettes - some with hurricane debris parts - are on display in the windows of Hermes in New York City.
Artist Robert Chambers has also used storm debris in his work.
"A sculptor always keeps his eye open for some freebie on the side of the road or on the shore," Chambers said. "After any hurricane there's all kinds of unusual elements that can be inspiring."
Chambers said he picked up rigging and other sailboat parts that had washed up on a Miami beach after last year's storm. He incorporated them into a work called "Triumph of Hope," which was shown in Miami. He also salvaged and stored some scrap metal that was blown into mango and coconut groves and trapped. He plans to incorporate the metal into future pieces.
Edythe Garber, a Boynton Beach painter, also saw potential in storm refuse. Though she had never done sculpture before, Garber said she was struck by the beauty of some of the debris. After collecting a truckload of objects including a large piece of galvanized metal, a rain gutter, and part of a brass chair, she fashioned a five-foot tall piece she titled "After Wilma" which now sits by her front door.
Visitors to her home have admired the piece, Garber said. Only one neighbor seemed to wonder why the objects weren't left for the trash collector.
"I gathered from her comments she didn't care for it," Garber said.
She didn't let it bother her. One woman's treasure, another's trash.
Copyright 2018 The Associated Press. All rights reserved. This material may not be published, broadcast, rewritten or redistributed. We strive to uphold our values for every story published.