Fort Lauderdale, Fla. — For the past decade, they've told intimate and detailed stories about their loss to all who asked.
They've spoken of how they still vividly remember what their loved ones were wearing, what they were doing and their last words to them.
On Thursday, 10 years after ValuJet Flight 592 disintegrated into the middle of the Everglades, killing all 110 people on board, surviving relatives of Florida's deadliest plane crash got a chance to meet and exchange the memories they have held onto.
"To be able to see and talk to someone who has been going through the same thing as we have, it's really emotional," said Arthur Balandran, of Topeka, Kan. "They know our loss."
Balandran and dozens of others from around the country spent much of this grim anniversary with each other while attending a series of solemn memorial ceremonies in Miami-Dade County.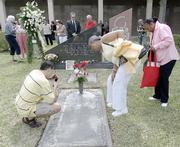 The ceremonies included a late afternoon trip to the Everglades where a roadside monument stands.
The ValuJet DC-9 took off from Miami International Airport on May 11, 1996, bound for Atlanta.
It crashed 11 minutes later, about 17 miles northwest of the airport, a raging inferno in its forward cargo hold.
It would later be determined that more than 140 volatile oxygen-generating canisters had been improperly packaged for shipment and then placed on board.
"I lost my son," Barbara Baker, of Miramar, told one woman, referring to her 29-year-old son, Sean Baker, of Atlanta.
"I lost my son, too," the woman responded as the two mothers embraced.
Later in the afternoon, the families traveled into the Everglades.
They met up at a ValuJet Flight 592 roadside memorial made up of 110 symmetrical cinderblock columns, each representing a victim. Most gazed silently into the Everglades swamp, while others caught up with each other.
During a brief ceremony, some took turns reading out the names etched on a marble slab. They then all prayed together and sang "Amazing Grace."
Copyright 2018 The Lawrence Journal-World. All rights reserved. This material may not be published, broadcast, rewritten or redistributed. We strive to uphold our values for every story published.