People always ask how Larissa Ejzak got to this point.
They want to know how she can live in a place where complex scientific theory and artistic theater coexist.
"I've had this problem my entire life of not knowing what I wanted to do with myself," she says. "I had too many options, and I wanted to keep my options open - both sides of my brain."
Ejzak graduates this month with two degrees from Kansas University - one in physics, the other in theater.
Up to this point, her efforts toward those degrees ran on parallel tracks.
Her worlds officially collide for the first time on Wednesday.
She'll step onto the Inge Theatre stage at 7:30 p.m. for "BURST," a 30-minute, one-person play she wrote that describes life after a high-radiation gamma-ray burst hits the earth. The information for that play comes from two years' experience working in a KU physics and astronomy lab.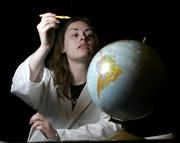 "We talk about interdisciplinary (research)," says Adrian Melott, a physics professor and one of Ejzak's advisers. "We sure have interdisciplinary here. Let's see someone come up with something more interdisciplinary than this."
Ejzak, from Wheaton, Ill., wrote the play to fulfill the theater department's requirements for graduating with honors.
"I always get a lot of funny looks when I say I'm a dual major in theater and physics," Ejzak says. "I wanted to show I can do them at the same time."
In the play, Ejzak takes on the personas of three people - a student, a fisherman and a gardener - who survive a major gamma-ray burst. She also recorded the voice of a scientist who gives background on the subject.
Gamma-ray bursts occur when giant stars explode, sending bursts of X-rays and gamma rays toward earth. While most of the gamma-ray bursts that hit earth approximately once a day are relatively harmless, the play examines a burst from a particularly close star, more along the lines theorized by some to have caused mass extinctions throughout history.
Among the effects: Plankton would be wiped out in the sea and alter the food chain, and animals (including humans) could suffer from blindness and skin cancers.
"It's plausible to think, somewhere in the history of the world, this could happen," Ejzak says, but admitting the chances are "really, really small."
The show
What: "BURST," a 30-minute, one-person play about surviving a gamma-ray burst Who: Performed by Larissa Ejzak, Kansas University senior When: 7:30 p.m. Wednesday Where: Inge Theatre, Murphy Hall, KU campus Admission: Free
Ejzak has studied computer models of gamma-ray bursts with Melott and co-authored a paper recently submitted to Astrophysical Journal.
But presenting such complex scientific research on stage - and to a lay audience - has been a challenge, even with numerous University Theatre productions under her belt.
"I've been through about 50 bazillion different scripts," Ejzak says.
Her theater adviser, Jeanne Klein, says Ejzak has managed to keep the play from being too technical.
"She doesn't want it to just be a classroom lecture on scientific facts," Klein says.
Ejzak plans to attend the University of Wisconsin-Madison in the fall and major in physics. But don't be surprised if you find her on stage there, too.
"Sciences are artistic and creative, and arts are scientific," Klein says. "She wanted to keep her artistic side alive, and she wanted to expand on that side. She's truly a well-rounded student."
As for Wednesday's performance, no need to bring a notepad or a textbook.
"This is entertainment," Ejzak says. "It involves my research, and I throw up a couple of graphs to explain what's going on, but for the most part it's entertainment.
And, she adds with a smile: "No quiz at the end."
Copyright 2018 The Lawrence Journal-World. All rights reserved. This material may not be published, broadcast, rewritten or redistributed. We strive to uphold our values for every story published.