Baghdad, Iraq — U.S. troops raided a suspected al-Qaida hide-out Tuesday, killing 10 insurgents - three of them wearing suicide vests - as U.S. forces stepped up the hunt for the group's leader, Abu Musab al-Zarqawi.
American troops searched for "an al-Qaida terrorist leader" in the pre-dawn raid at a safehouse about 25 miles southwest of the U.S. air base in Balad, north of Baghdad, the military said.
The raid unfolded when troops surprised a guard and shot him before he could fire his pistol, the military said. As the insurgent fell, he detonated a suicide vest. Two more insurgents were killed inside the hide-out and the others outside as they tried to escape. Two of the dead were also found wearing explosive vests.
The statement did not say whether al-Zarqawi was the target of the raid or whether anyone escaped.
It was the fourth raid reported by the U.S. command against al-Zarqawi's al-Qaida-in-Iraq network since April 16, when American troops stormed a house in Youssifiyah just south of the capital, killing six people, including a woman, and arresting five people, among them an unidentified al-Qaida official.
However, CNN reported that the captives said al-Zarqawi had been in a nearby house.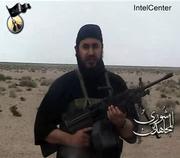 Stepped-up operations against al-Zarqawi's network are taking place as U.S. and Iraqi officials are making overtures to other Sunni Arab groups, hoping to persuade them to abandon the insurgency and join the political process under a new government of Sunnis, Shiites and Kurds.
Last weekend, President Jalal Talabani said officials from his office had met with insurgent representatives and he was hopeful they might agree to a deal. Talabani also said American officials had met with insurgents.
U.S. officials have confirmed meeting Iraqis linked to the Sunni Arab insurgency but have avoided identifying them.
In other developments Tuesday:
l A U.S. soldier was killed Monday in a roadside bombing south of Baghdad, the U.S. command said. At least 2,407 members of the U.S. military have died since the beginning of the Iraq war in March 2003, according to an Associated Press count.
l The German Foreign Ministry said two German men taken hostage in January had been released and are safe. Thomas Nitzschke and Rene Braeunlich were with Germans officials in Iraq, a ministry spokesman said.
Copyright 2018 The Associated Press. All rights reserved. This material may not be published, broadcast, rewritten or redistributed. We strive to uphold our values for every story published.