Los Angeles — More than 1 million immigrants boycotted work, skipped school and poured into the streets in cities and towns across America on Monday to display their economic clout and demonstrate in favor of immigration.
Day-care provider Noemy Costancia, 46, didn't care if her employer opposed Costancia's decision to take the day off. She did it anyway, forcing the parent who employed her to skip her own job Monday.
Salesman David Lugo, 54, and several co-workers at a water filter business boycotted going to work too, with advance permission. The firm had to close for the day.
Construction laborer Miguel Angel Mendez, 28, got lucky with his boss: Mendez was paid $140, even though he didn't work and instead participated in Monday's rallies in Los Angeles.
Those three workers were among immigrants in Los Angeles - legal and illegal - and their supporters who turned out in the hundreds of thousands in some cities across the country. Together, they sought to partially paralyze the mightiest economy on Earth by staging "A Day Without Immigrants," a moniker inspired by the film "A Day Without A Mexican."
Not all demonstrators advocated a boycott of job sites, business and schools, a controversial agenda that has divided organizers out of concern for a mainstream backlash.
Some marchers said they merely were expressing political convictions that U.S. Congress must find a way to legalize the nation's estimated 12 million illegal immigrants, aside from law enforcement reforms.
Officials couldn't provide an immediate figure on what was the overall economic impact of the U.S. immigrant version of May Day, but myriad businesses from meatpackers to McDonald's reported worker shortages.
"It might give some companies pause about the potential power that exists there," said Harry Pachon, president of the Tomas Rivera Policy Institute at the University of Southern California. "It does show you a market out there."
Photo Gallery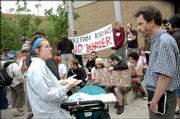 Rallies
Throughout the land, the turnouts were considerable: 400,000 in Chicago; 250,000 in a morning downtown Los Angeles rally and an estimated 400,000 more at a second rally in the afternoon; 75,000 in Denver; 15,000 in Houston; and 30,000 across Florida. In New York City, tens of thousands of marchers filled streets in Manhattan.
Thousands of others rallied in Southwestern cities, including Las Vegas and San Diego, officials reported. Elsewhere in California, 50,000 took to the streets in San Jose and up to 30,000 mobilized in San Francisco, officials said.
In Chicago, organizers said they hoped that the mobilization, tied to an international holiday honoring workers, would be the start of a long-lasting movement for immigrant rights that transcends ethnic lines.
The twin rallies in Chicago featured speakers including Sen. Barack Obama, D-Ill., and Cardinal Francis George as well as lesser-known activists who have built a movement largely from scratch. Speakers, in English and Spanish, drew cheers from a peaceful gathering awash in American flags and banners from every corner of the world, from Ghana to Guatemala.
"We have to change the world," said Jose Artemio Arreola, a school janitor from Oak Park, Ill., and key rally organizer as he urged school children to pursue advanced degrees and parents to vote. "Go out on election day - it doesn't matter if it's raining - to show the politicians in office that if they don't listen to us, they're out of there."
Whether Monday's rallies will result in any legislative measure from Congress remained unclear, analysts said.
Benjamin Johnson, director of Immigration Policy Center of the pro-immigrant American Immigration Law Foundation, said he doubted both chambers of Congress would agree on any immigration reforms this year.
"I think both sides want an issue rather than a solution," Johnson said.
A leading advocate for tougher enforcement, Rep. Tom Tancredo, R-Colo., chairman of the 97-member House immigration reform caucus, said Monday's events would be "a boon" for taxpayers because, he contended, illegal immigrants burden social service costs.
Copyright 2018 The Lawrence Journal-World. All rights reserved. This material may not be published, broadcast, rewritten or redistributed. We strive to uphold our values for every story published.