Irvine, Calif. — President Bush had a blunt message Monday for fellow Republicans focusing only on get-tough immigration policies: He said sending all the nation's estimated 11 million illegal immigrants back to their home countries is not the answer.
"Massive deportation of the people here is unrealistic - it's just not going to work," Bush said. "You know, you can hear people out there hollering it's going to work. It's not going to work."
With Congress coming back from a two-week spring recess to a long election-year to-do list and tensions flaring nationwide over immigration, Bush urged lawmakers to adopt a middle-ground policy. He called a Senate bill, which creates a way for illegal immigrants to work legally in the United States and for many to eventually become citizens, an "important approach."
"It's just an interesting concept that people need to think through," Bush said of the bill sponsored by Sen. John McCain, R-Ariz., which stalled before the congressional break.
As for Bush's comment on deportation, a Time magazine poll in January found 50 percent of the country favored deporting all illegal immigrants. But even Rep. Tom Tancredo, R-Colo., one of Congress' most outspoken advocates for tougher immigration laws, does not advocate mass deportation.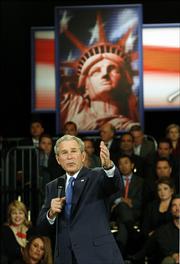 Well aware that November elections could end GOP control of Congress, Bush is walking a fine line on the emotional immigration issue, between his party's conservative base, which wants a clampdown on illegal immigration, and business leaders who believe the economy needs immigrants to fill jobs.
The House has passed a law-and-order immigration bill that would erect fences along the Mexican border and treat people who sneak across as felons to be deported. An alternative Senate measure would set up a temporary guest worker program, like the McCain bill, but require all illegal immigrants to leave the United States before they could apply for the visas.
As he has before, Bush stopped short of directly endorsing the McCain bill. The White House will go no further than to call it an attractive vehicle to keep negotiations moving.
The bill, also sponsored by Sen. Edward Kennedy, D-Mass., would boost border security but also create three-year visas for guest workers. Those who have been in the country longer than five years would not have to return home to apply for the visas. It would also allow for the workers to apply for legal permanent residency after paying a $2,000 fine, learning to speak English and working six years.
Bush is to meet today at the White House with a bipartisan group of senators on immigration.
Copyright 2018 The Associated Press. All rights reserved. This material may not be published, broadcast, rewritten or redistributed. We strive to uphold our values for every story published.