Immigrant workers in Lawrence and elsewhere across the state and nation protested proposed immigration reform Monday, taking the day off work and snarling projects at some local businesses.
"They just didn't show up for work," said Jan Hassler, who works for Lawrence-based Mesler Roofing. "It'll put us back a day or two."
Hassler and other construction firms spent Monday explaining to customers why job sites stood vacant, as protesters hit the streets - as part of "A Day Without Immigrants" - to oppose House Resolution 4437, which would impose tough new penalties on undocumented workers.
An hour down the Kansas Turnpike, in Emporia, organizers said more than 1,500 people gathered at the Lyon County Fairgrounds to protest the proposal - offering two hours of Spanish-language chants and translated speeches proclaiming the rights of immigrants in America.
"We hope the president and the Congress see how much people we've got, how much the United States needs all these people," said Maria Landeros, a longtime Emporia resident who immigrated to the U.S. from Mexico more than 30 years ago.
The Emporia protest took place in sight of the Tyson meatpacking plant, which has helped draw thousands of migrant workers to town - and which also has created a backlash in the community.
Photo Gallery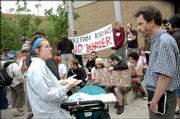 Rallies
A second group of protesters, in favor of tougher immigration laws, set up shop a few hundred feet from the larger demonstration.
Amanda Logsdon, an Emporia native who organized the counterdemonstration, estimated her crowd at 75 people.
In Lawrence, more than three dozen people gathered downtown at noon to collect signatures on petitions against the legislation, then marched to the office of U.S. Rep. Dennis Moore, D-Kan., to deliver the demand. Later in the day, demonstrators had a candlelight vigil at City Hall.
"I'm in full support of immigrants, legal or otherwise, working in this country," said C.J. Brune, a veteran community activist, who attended the noon function.
"Whether or not we have numbers here tonight," she said, "we know that the majority of Americans share our side."
What 4437 says
Here are some features of H.R. 4437, the U.S. House resolution at the center of nationwide protests Monday:
¢ People who assist illegal immigrants in entering the country could be subject to prison terms of up to five years. If the smuggling was done for financial gain, they could receive up to 20 years.
¢ People who hire 10 or more undocumented workers during a year are subject to a fine or imprisonment.
¢ Construction would begin on a 700-mile fence along the U.S.-Mexico border to shut out immigrants.
¢ The "catch and release" policy for non-Mexican immigrants would end. Instead, they would be held in detention until deportation.
'Full support'
The day's protests involved more than a day off from work.
Steve Lynch, owner of Lynch Construction, said he noticed some absences Monday, but he understood the protest was an important event for many immigrants.
"If I was on a really tight schedule, I might miss a day," Lynch said. "But I understand it. This is their holiday."
About 100 people gathered Monday night outside City Hall for a candlelight vigil while listening to pro-immigrant speeches from community activists.
Some told the story of American immigration 200-plus years ago, saying that many political leaders have lost sight of this heritage.
"I hope people realize immigrants' important contributions to our community," Lawrence resident Lydia León said.
Rallies peaceful
In Emporia, Logsdon blamed fears of violence for dampening attendance at her protest against illegal immigration. There were no notable incidents, as officials kept the two protests separated by the length of a football field, staffed by police, sheriff's deputies and troopers from the Kansas Highway Patrol.
One of the anti-immigration demonstrators held a sign: "Wetbacks go home. Pay back our taxes."
The man identified himself as Bob Edwards, 64, of Emporia - and he didn't care if he caused offense.

"So what?" he said. "They're not here legally anyway."
Nearby, however, Indy Dambro offered a more subdued protest, noting that his family had fled the chaos of Eastern Europe in the years following World War II, then became naturalized citizens.
"I don't think (citizenship) ought to be given away," Dambro said.
'Si se puede!'
At the pro-immigrant rally, though, speakers resisted the idea they'd been given anything, saying they'd worked hard to earn a living and respect in America.
"We would like to ask the Congress of the United States to construct an immigration law that is just, because we have come here to work and cooperate with the country in which we are living," said the Rev. Matias Coria, pastor of a largely Hispanic Baptist church in Emporia, in a speech delivered in Spanish.
Between speakers, the crowd repeatedly chanted "Si se puede!" - "Yes we can!" - which has become a slogan for pro-immigrant rallies across the country.
But Heather Delgado, an Emporia teacher, sang the national anthem in English and the crowd, carrying a mix of American and Mexican flags, sang along and cheered as she finished.
"Most immigrants I know are hardworking people who just want opportunities," said the Rev. Jeanette Cavazon, who ministers at Centro Christiano de Emporia. "Can we not have compassion on honest, hardworking, beautiful people who have come to help our country?"
Copyright 2018 The Lawrence Journal-World. All rights reserved. This material may not be published, broadcast, rewritten or redistributed. We strive to uphold our values for every story published.