State accident records show Lawrence is surrounded by dangerous two-lane highways.
And U.S. Highway 59 - the site of a death and three injuries during the weekend - isn't statistically the most dangerous.
During the last 10 years, more people have died and suffered injuries in accidents on the hilly, twisting U.S. 40 Highway between Lawrence and Topeka, statistics show.
U.S. 59, however, is a close second. And U.S. Highway 24-59 north of Lawrence to Williamstown is not far behind.
That comes as no surprise to Lt. John Eichkorn, spokesman for the Kansas Highway Patrol.
"A two-lane road like that, we do see some crashes out there," he said.
There were at least 16 deaths from 1996 through 2005 on U.S. 40 from Lawrence to the Kansas Highway 4 interchange at the east edge of Topeka, according to state statistics. There were 405 people injured on the highway during that time.
There was, however, one more fatal accident on the highway in December that was not yet included by KDOT, which would bring the total to 17.
On U.S. 59 during the same period, 15 people died in accidents between Lawrence and Ottawa and 365 were injured.
There were 10 deaths and 183 injuries on U.S. Highway 24-59 from North Lawrence to Williamstown.
A two-vehicle collision Saturday at U.S. highways 56 and 59 south of Lawrence and west of Baldwin killed a Spring Hill woman and injured a passenger. The latest statistics for U.S. 56 weren't available Monday.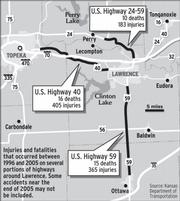 A plan for improving U.S. 59 to a four-lane highway is moving forward, with construction set to begin in 2007 in Franklin County and 2009 in Douglas County, KDOT spokesman Joe Blubaugh said.
There are no plans to make similar major improvements to U.S. 24-59 or U.S. 40, Blubaugh said. U.S. 40 may see some widened shoulders at various places, he said.
"That's mainly because we have what will be a six-lane freeway right there, which is going to carry the majority of traffic," Blubaugh said, referring to the Kansas Turnpike/Interstate 70, which is being widened to six lanes.
Several factors determine which highways KDOT recommends for major improvements similar to U.S. 59, Blubaugh said. Safety is among them, along with current and projected traffic counts.
U.S. 59 also has seen increased law enforcement efforts by local agencies and the Kansas Highway Patrol, including air patrols. Similar intensive efforts have not been conducted on U.S. 40. That is because the narrow highway's twisting valleys and hills make it challenging to conduct traffic enforcement, Eichkorn said.
"It makes it more difficult to pull people over," he said. "That doesn't mean we don't do it. We certainly do it as much as we can on 40, but it has always been a challenging road for enforcement purposes."
State seeks road safety ideas
The state of Kansas is seeking public comments about how to make roadways safer.
A governor's task force, called The Driving Force, was formed in February and had its first meeting in April. The 19-member task force plans public hearings throughout the state in the next few months.
The first hearing will be from 10 a.m. to 3:45 p.m. Wednesday in the Centennial Room at the Pozez Education Center, Eighth and Horne streets, in Topeka.
Last month's meeting was used for brainstorming about what might be done to get people to use seat belts and child restraints and follow other safety measures while on the road, said Franklin County Atty. Heather Jones, who is on the task force.
Jones said she thought law enforcement officers should be able to stop drivers not using safety belts even if no other violations are observed. Currently, Kansas law does not allow that.
"I think the reasoning behind the task force is great, and I hope that we can get some things accomplished," Jones said.
Copyright 2018 The Lawrence Journal-World. All rights reserved. This material may not be published, broadcast, rewritten or redistributed. We strive to uphold our values for every story published.