Emergency responders reported that one person was killed and another seriously injured in a rollover accident Saturday night near the main Eudora exit on Kansas Highway 10.
A Douglas County emergency dispatcher said at 10:30 p.m. that emergency workers were extricating the seriously injured person from the vehicle. A LifeNet helicopter ambulance transported the victim to a Kansas City area hospital at 10:38 p.m.
Responders told dispatchers that only one vehicle was involved.
Traffic was backed up in the westbound lanes of the highway for about 30 minutes.
Kansas Highway Patrol officers were investigating it late Saturday and expected to release an accident report early this morning.
Officers with the Douglas County Sheriff's office, Lawrence Police Department, Eudora Police Department and Kansas Highway Patrol worked to re-route traffic in the westbound lanes on Kansas Highway 10. The Eudora Emergency Medical Service also responded.
At 10:48 p.m., Lawrence-Douglas County Fire & Medical responders were also sent to a second accident in Eudora near Kansas Highway 10 and County Road 1061. Responders told dispatchers that the two people involved in that accident did not have life-threatening injuries, but extrication was needed.
It was not immediately clear whether the second accident was related to the fatal rollover accident.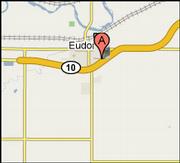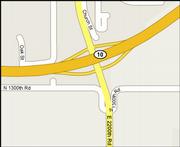 Copyright 2018 The Lawrence Journal-World. All rights reserved. This material may not be published, broadcast, rewritten or redistributed. We strive to uphold our values for every story published.