Los Angeles — Tim McGraw asks a lot of his fans.
Onstage, the country singer encourages them to live, love, dance, care, grab it all. Offstage, he urges them to vote, give blood, donate money, to help any way they can.
He asks even more of himself.
On Tuesday, he released his 10th CD: "Tim McGraw Reflected Hits Vol. 2."
Before the end of July, he will: Put the finishing touches on his "Tim McGraw: Reflected" television special, airing April 7 on NBC; join wife Faith Hill on a 70-city Soul2Soul II concert tour; and star in Fox's remake of "Flicka," set for big-screen release on July 29.
The TV special, his third, is his most intimate, he said.
"You know, I'm not a big talker, especially on the stage. So this special, there is probably a little more insight," McGraw said in a telephone interview from New York City.
Recorded at New York's Avalon Club and McGraw's getaway farm outside Nashville, Tenn., the show includes the orchestra-backed "My Little Girl," the title track from "Flicka."
Hill joins McGraw on the one-hour special for some gentle teasing and a fireplace duet of "I Need You."
Hank Williams Jr. returns to the farmhouse, built in 1843, where he grew up. McGraw bought it three or four years ago. McGraw tells Williams he was his inspiration: "There's a little Hank in everything I do."
McGraw and Hill are both 38. They were married in 1996 and have three daughters: Gracie, 8, Maggie, 7, and Audrey, 4. Between them they have recorded 16 albums and sold more than 65 million. He's had 26 No. 1 singles, she's had 11. His name is on three Grammys, hers is on five. The duets "Like We Never Loved at All" and "Let's Make Love" won them each a pair of those statues.
The two country superstars always travel as a family, no matter who is on tour. Soul2Soul II, which starts April 21 in Columbus, Ohio, will be their second together. They expect to play to a million people before it's over.
Despite the together time, they have separate styles, separate bands and separate careers.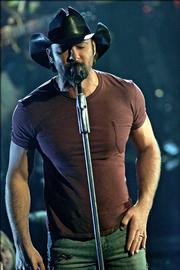 "I'm more of a '70s rock 'n' roll kind of a guy, she's more of an R&B; kind of girl," McGraw said. Countrywise, she likes George Jones and he likes Merle Haggard. They both like Santana.
McGraw grew up poor as Tim Smith and didn't learn his biological father was baseball pitcher Tug McGraw until he was 10 or 11 and stumbled across some papers in a shoebox. He changed his name in college.
Although the two met briefly in 1979, it took years for McGraw and his father to build a friendship. When Tug McGraw died of brain cancer in January 2004 at the age of 59, it was at his son's Nashville home, where the younger McGraw cared for him during the last months of his life.
McGraw's Grammy-winning "Live Like You Were Dying" is a salute to the reliever who coined the phrase "You gotta believe" for the New York Mets' 1973 National League championship season. He also closed out the Philadelphia Phillies' only World Series championship in 1980.
McGraw heard the song while his father was sick and knew he would sing it, he said.
"Emotion helps in the music business," McGraw said. "You can't fake emotion when you're trying to sing. That's the real connection that people get with an artist. ... I like to think that when I put something on the table, you gotta believe it."
A lot of McGraw's songs look at the fragile side of life. Does that worry him? "Yeah, I could go at any time. But you don't live like that. You just live. There's a reason behind living. You live and try to do the best you can and try to be a good person."
Copyright 2018 The Associated Press. All rights reserved. This material may not be published, broadcast, rewritten or redistributed. We strive to uphold our values for every story published.