A Lawrence-based technology company has received $1.1 million in federal contracts, and the business is expanding into a new location to handle the extra work.
Pinnacle Technology Inc., 619 E. Eighth St., recently landed three contracts for its ongoing business. Two of the contracts are from the National Institutes of Health:
¢ $780,000 for a collaborative effort with Kansas University to design sensors that measure glutamate, a neurotransmitter that is a focus in research and treatment for conditions and diseases that include strokes, Parkinson's disease and Alzheimer's disease.
¢ $225,000 for a joint project with Northwestern University to design wireless equipment that can monitor brain activity in rats and, eventually, mice, to help track interactions among brain chemistry, electrical response and behavior.
The two projects are helping strengthen Pinnacle's existing work and will be expected to move products closer to a market that is brimming with potential, said Donna Johnson, Pinnacle's president. University researchers, drug companies, research laboratories and others are looking for help improving their own efforts to battle persistent health problems.
"One in three people will come down with some problem affecting the central nervous system," Johnson said. "It's a $500 billion problem for the United States. They're looking for new tools to help do research, and that's one of the things we've been doing for NIH.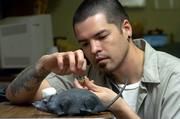 "It's state of the art, absolutely cutting edge."
The financing is coming through NIH's Small Business Innovation Research Program. The projects will be eligible for more financing in the future, should they be deemed successful by experts at NIH.
Pinnacle also received a $100,000 contract from the Navy for continued work on parts for a flight simulator for the military's Joint Strike Fighter. Pinnacle has another eight months to complete development and integration of a new power-over-Ethernet control system for the simulator, which would "replace the guts" of existing simulators by eliminating the need for wire bundles, Johnson said.
The Navy already has invested about $600,000 in Pinnacle's simulator work, which, if accepted as a standard, would give the company a "$500,000-plus" sale for each simulator ordered, Johnson said.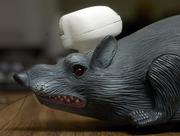 All of the work comes as Pinnacle plans to move into a bigger space: the former home of a graphics company at 2727 Ore.
The new location will be more than twice the size of Pinnacle's existing space at Eighth and Pennsylvania streets, where owner Bo Harris is planning a major renovation project. The move also will allow Johnson to own her own building, and likely lease out space herself until it is needed for her business.
Johnson doesn't expect the growth to slow anytime soon. The 11-year-old business has watched its sales increase 10 percent to 15 percent a year for each of the past three years, she said.
"I expect that to start changing quickly as we move from R&D; (research and development) to sales," Johnson said. "We'll probably go up 30 to 50 percent over last year."
Copyright 2018 The Lawrence Journal-World. All rights reserved. This material may not be published, broadcast, rewritten or redistributed. We strive to uphold our values for every story published.