It will be a little more than a month before supporters of a new or expanded Lawrence Public Library will know how much interest there is among developers for taking on the project.
About 20 companies in the Lawrence-Kansas City area and one in Nevada have been invited to submit proposals for the project that would make the library the centerpiece of downtown and also would include private development. Proposals also would be accepted from other firms that might see advertisements on the Web sites for the library and the City of Lawrence.
The deadline for proposals is May 4.
"We want to explore all options," library director Bruce Flanders said.
The request for proposals lists information the firms must provide in their plans, including descriptions of the library and any proposed private development and the necessary public improvements to support both.
The city will place a higher ranking on proposals that provide for additional off-street parking associated with the project.
"If the library is not adequately served in the redevelopment plan, that plan will be rejected," Flanders said. "There are just some things that have to take place for the library to feel comfortable."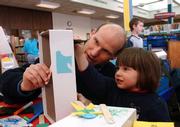 Over the past few years, Flanders, city commissioners, members of a task force and consultants have been working to determine the city's library needs and how a new one might be built or the old one expanded at 707 Vt.
Consultants have found that the library, which opened in 1973, is inadequate for the city's needs today. For example, the library is 52,000 square feet, and a modern library for this city should have up to 140,000 square feet. Parking also is inadequate, and metered spaces are shared with patrons of the nearby Lawrence Senior Center and the Lawrence Outdoor Aquatic Center.
The request for proposals also asks firms to provide information about the financial viability of their proposals and prepare a feasibility study as required by law if tax increment financing would be involved. TIF is a mechanism for developers to use a combination of public and private money and, in return, lure development properties that would help pay debt services.
While firms were asked to suggest library proposals that tie in with downtown enhancement and would probably involve building at another site, the library's consulting firm, Gould Evans Associates, also is studying possibilities for expanding the library in the city-owned block at its current site.
Though no firm cost estimates for a library project have been made, $30 million would probably be the minimum necessary, Flanders said.
Once the proposals are received, a group will be appointed to review them. The review could take up to two months, Flanders said.
"We want to move fairly quickly on it because there is some momentum and strong interest, and we want to do a thorough job," he said.
Copyright 2018 The Lawrence Journal-World. All rights reserved. This material may not be published, broadcast, rewritten or redistributed. We strive to uphold our values for every story published.