The Kansas Senate on Monday gave preliminary approval to legislation limiting governmental power to take away private property for purposes of economic development.
It also advanced a bill that would benefit a Lawrence development company in a condemnation case.
Both measures were given first-round approval on a voice vote and will face a final vote today.
Governments traditionally have used the power of eminent domain to take private property, after compensating the property owner. They would then use that property for public purposes, such as roads or utility lines.
But in recent years, eminent domain increasingly has been used for economic purposes, when the government condemns the property and then turns it over to private developers to build businesses or entertainment districts. An example of this was development of the Kansas Speedway in Wyandotte County.
"It's a fundamental issue, whether or not government can take one person's property and give it to someone else," said Sen. Tim Huelskamp, R-Fowler. "The use of eminent domain for that purpose I never thought was part of the American dream."
The bill brought to the Senate would have limited local governments from taking private property by eminent domain for the purpose of transferring that property to a private company for economic development.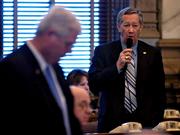 Under the bill, local governments could use eminent domain for economic development reasons only if it resulted in significant job growth, had a capital investment of 1 percent of the city's total assessed value of property or $10 million, and gained a two-thirds vote of the local governing body.
"This is a very delicate balance between the interested parties," said Sen. John Vratil, R-Leawood.
But an amendment by Sen. Pat Apple, R-Louisburg, was approved that essentially would prohibit local governments from condemning property for economic development projects unless they had approval from the Legislature.
"This protects private property owners from the threat or the use of eminent domain," Apple said.
Under the amendment, "cities and counties cannot take property strictly on the basis of economic development," he said.
The use of eminent domain to make way for the Kansas Speedway remains a sore spot for many Wyandotte County residents, said Sen. David Haley, D-Kansas City, Kan.
"The people of Wyandotte County did not want to see their neighbors thrown off their property for the benefit of outsiders," he said.
The bill affecting a Lawrence case was advanced without question or debate.
The legislation essentially would overturn a Kansas Supreme Court decision from December that said to appeal an appraiser's award in a condemnation case, a new docket fee must be paid within 30 days.
Attorneys for Westgate LC said without the bill, a judgment for several hundred thousand dollars could be in jeopardy. Vratil said it was never the intent of the Legislature to require a new docket fee.
Copyright 2018 The Lawrence Journal-World. All rights reserved. This material may not be published, broadcast, rewritten or redistributed. We strive to uphold our values for every story published.